Honeywell's 2012 Americas student competition is challenging engineering students to use simulation software to create solutions to critical issues facing manufacturing companies.
Honeywell's 2012 Americas student competition is challenging engineering students to use simulation software to create solutions to critical issues facing manufacturing companies.

The UniSim Design Challenge is held in conjunction with the Honeywell Users Group (HUG) Americas symposium, the company's largest customer event in the world, and is open to students pursuing engineering degrees at accredited universities in North and South America.
Students must use Honeywell's UniSim Design Suite software to create ways to make plants safer, as well as more efficient, reliable and sustainable, while continuing to meet ever-growing production demands. The Americas competition is one of three held globally and is one of several Honeywell Process Solutions (HPS) initiatives designed to encourage engineering studies.
Winners of this year's competition will be flown to Phoenix to attend HUG Americas, where they will present details of their entries and network with industry experts and potential employers. The conference will be held June 10-15 in Phoenix. Last year's winners, Pedro Amer and Nahir Torres from the Universidad de Oriente Venezuela, created a process simulation model of a high-pressure steam generation boiler. The pair demonstrated how simulation can train operators to evaluate different scenarios in production and design processes offline.
"Student competitions such as this serve two critical purposes," said Norm Gilsdorf, president of Honeywell Process Solutions and an alumnus of Purdue University's School of Engineering. "First, they bring fresh thinking that help solve real problems faced by real manufacturing facilities. And second, they show the innovators of tomorrow how they can put their engineering skills to use in the real world, strengthening our future workforce."
UniSim Design is used around the world to design and test processes before they are implemented in manufacturing plants. Doing this ultimately allows new plants to begin production faster, and also helps existing plants improve operations. Additionally, this makes processes safer and, in some cases, helps plants use less energy in production.
Interested students must submit abstracts and presentations by April 20 to enter the HUG Americas student competition.
Honeywell International is a Fortune 100 diversified technology and manufacturing leader, serving customers worldwide with aerospace products and services; control technologies for buildings, homes and industry; automotive products; turbochargers; and specialty materials. Based in Morris Township, N.J., Honeywell's shares are traded on the New York, London, and Chicago Stock Exchanges. Honeywell Process Solutions is part of Honeywell's Automation and Control Solutions group, a global leader in providing product and service solutions that improve efficiency and profitability, support regulatory compliance, and maintain safe, comfortable environments in homes, buildings and industry.
Featured Product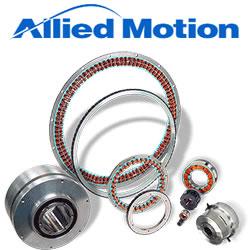 Allied Motion's Megaflux MFH170i series of 170 mm (6.7 in) diameter housed brushless torque motors consists of a high performance brushless DC torque motor, a digital servo drive, and an optical encoder, all integrated into a rugged machined aluminum housing with robust duplex bearings. The MFH0170i series features a 63.5 mm (2.5 in) large-bore through shaft, and is characterized by a very high torque-to-inertia ratio. There are three stack lengths in the series with peak torque ranging from 8.5 up to 16.9 Nm (75 up to 150 lb-in). The standard winding voltage is 48 V. And to ease the hassle of long leadtimes for prototypes, the new MFH170i is now available through our QuickShip program.