Engineering-focused automation solutions provider adds Dunkermotor intelligent servo motors, brushed DC motors and gearmotors, as well as linear motors, to its motion control portfolio.
Elgin, IL -- March 19, 2012 -- East Coast automation solutions provider iAutomation has expanded its product portfolio through a new channel partner agreement covering Dunkermotor's fractional horsepower brushed and brushless DC motors and intelligent servo motors, as well as its Thrust Tube linear motors. Headquartered in Beverly, Massachusetts, iAutomation has seven offices, plus five satellite office locations covering the East Coast from Maine to South Carolina.

"iAutomation exists to deliver high-quality, strategic solutions for clients. Dunkermotor fits into our strategy quite well," said Nick King, executive vice president, sales and marketing for iAutomation. "Our customers consistently ask us for more complete and better integrated automation solutions at lower cost. Dunkermotor's brushed and brushless motors and intelligent servo motors help us do that."
Introduced to the market in 2011, iAutomation is the new name for the previously merged Integrated Motion and Automation Solutions entities. With a staff that includes 50 engineers, iAutomation's unique approach unifies engineering and technology to provide complimentary solutions within the entire machine line, allowing for consistent evolution of performance. The high level of engineering integration is designed to improve processes with faster development and implementation cycles, with the least risk.
"With roots going back to 1984, iAutomation's customers are OEM machine builders and end users spanning the mid to upper East Coast," said Ken Remis, Dunkermotor eastern regional sales manager. "We like the fact that they measure their success by their customers' complete satisfaction: defined by when an automation project delivers a meaningful competitive advantage to their customers. At Dunkermotor we share that objective and we look forward to our TechCenter actively working with iAutomation's engineers and customers."
About Dunkermotor:
Headquartered in Elgin, Illinois, Dunkermotor is the North American sales, technical support and logistics subsidiary of Dunkermotoren GmbH, for 60 years the global quality and value leader in customized, configurable sole-source fractional horsepower motion control solutions composed of BLDC, PMDC and AC electric motors, gearmotors, controls, encoders and brakes, as well as linear motion solutions. With headquarters in the Black Forest in Bonndorf, Germany and production and/or logistics facilities in Europe, Asia and the U.S., Dunkermotoren employs 1000 globally and produced over 3.4 million motors in 2011 for the factory and commercial automation, specialty machinery, medical, solar power, packaging, semiconductor, and mass transportation industries.
http://www.dunkermotor.com
Featured Product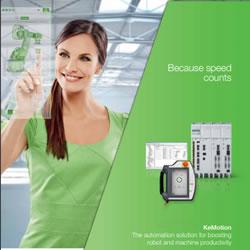 Challenges in the field of visualization are extensive, ergonomics and an intuitive user interface are key factors for efficient operation and monitoring. At KEBA, you will find the right operation solution for every application as a complete package without additional investment. KeTop provides high-performance, application-optimized hardware and software which ensure future reliability. Step-by-step customizing and comprehensive consultation in all questions having to do with visualization allow for maximum differentiation of your HMI solution.