ATI Sponsors Free RIA Webinar April 12th, 2012
ATI Industrial Automation is sponsoring the Robotic Industries Association (RIA) free webinar, "Fundamentals of Industrial Robotics: Factory Solutions", April 12th from 12:00 noon to 1:00 pm EST.

Learn about different kinds of robots, their design and component makeup, basic safety considerations and integration methodologies. See movies of factory solutions in action (e.g., in automotive settings, packaging warehouses, and semiconductor manufacturing facilities.) These and a variety of other industrial markets and robot solutions within them are examined along with key technologies that enable them.
Featured Product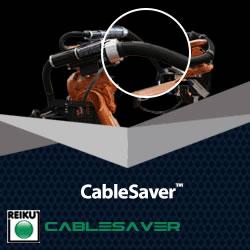 REIKU's patented Cable Saver™ and component solutions can be designed or adapted to be installed on any Robot. Robotic system components are available in 7 different sizes simply visit www.reikuna.com and use our convenient online size calculator to determine which size of REIKU components your application needs.