ATI Sponsors Free RIA Webinar April 12th, 2012
ATI Industrial Automation is sponsoring the Robotic Industries Association (RIA) free webinar, "Fundamentals of Industrial Robotics: Factory Solutions", April 12th from 12:00 noon to 1:00 pm EST.

Learn about different kinds of robots, their design and component makeup, basic safety considerations and integration methodologies. See movies of factory solutions in action (e.g., in automotive settings, packaging warehouses, and semiconductor manufacturing facilities.) These and a variety of other industrial markets and robot solutions within them are examined along with key technologies that enable them.
Featured Product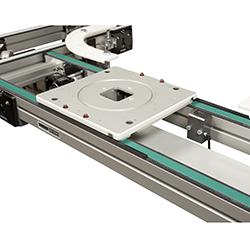 Dorner's 2200 Series Precision Move Pallet Systems feature the latest advancements in pallet traffic management. A unique pin tracking system guides pallets through merges and curves while maintaining product orientation. The fast belt change capability increases efficiency and reduces downtime in assembly automation processes. They are available in lengths up to 25 ft., can handle loads up to 500 lbs. and travel at speeds up to 114 ft/min.