ATI Sponsors Free RIA Webinar April 12th, 2012
ATI Industrial Automation is sponsoring the Robotic Industries Association (RIA) free webinar, "Fundamentals of Industrial Robotics: Factory Solutions", April 12th from 12:00 noon to 1:00 pm EST.

Learn about different kinds of robots, their design and component makeup, basic safety considerations and integration methodologies. See movies of factory solutions in action (e.g., in automotive settings, packaging warehouses, and semiconductor manufacturing facilities.) These and a variety of other industrial markets and robot solutions within them are examined along with key technologies that enable them.
Featured Product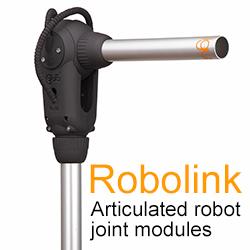 Robolink: Articulated joint modules for robots. igus® now offers a lightweight, maintenance- and corrosion-free range of robot joints for humanoid systems or other automated applications. The carbon-fiber plastic joints can rotate and oscillate freely via four wire ropes. No more expensive milling, cutting or DIY systems. Moving mass is reduced to a minimum. The actuators (engines, pneumatics and hydraulics) and the control module (DP, PC) are kept separate. Contact igus® for more information and free samples.