Utilizing digital motors driven by steel-reinforced, polyurethane timing belts, R12-six is suited for testing, sample handling, and machine feeding. Self-contained 6-axis bench-top unit is available with optional incremental optical encoders, plus hand that incorporates mounting plate for grippers and vacuum cups.
PRINCETON, NJ - - ST Robotics announced today the introduction of their new R12-six 6-axis, vertically articulated robot arm -- a technological and economical breakthrough in bench-top robotics. This robust, self-contained, industrial robot system can be unpacked and programmed in just a few hours. Applications include testing, sample handling and machine feeding.

ST's R12-six, while a remarkably low-cost entry into the industrial robotics market, is thoroughly capable of the most complex tasks due to its exceptional intelligence, speed, accuracy, reliability, adaptability and ease of programming. It has an effective reach of 500mm and utilizes new, light-weight, high-efficiency digital motors driven by steel-reinforced, polyurethane timing belts. Also of note are the optional, incremental, optical encoders that provide unsurpassed integrity, plus a versatile "hand" that incorporates a mounting plate for grippers, vacuum cups, etc.
"The R12-six is the most cost-effective, 6-axis robot on the market today for professional use," said David Sands, President and CEO of ST Robotics. "Based on our successful 5-axis design, the 6-axis option gives users the flexibility and motion required for more demanding tasks -- at an unparalleled price."
ST Robotics has unveiled an unprecedented internet offer through June 30, 2012, that enables companies to acquire a complete, ready-to-use, R12-six Robot System for just US$8650. This limited-time package price includes the R12-six robot arm, the new K11R controller, RoboForth II software, intuitive teach pad, simple interfacing with other equipment, cables, manuals, a two-year warranty and unlimited free technical support. Options include pneumatic, electric and vacuum grippers, and expandable I/O. As with all ST Robotics products, the exceptional manuals and support provided make installation and programming surprisingly easy.
ST Robotics, widely known for "maximizing your physical and fiscal reach", has offices in Princeton, New Jersey and Cambridge, England. One of the first manufacturers of bench-top robot arms, ST Robotics has been providing affordable, easy-to-use, ready-to-go, boxed robots for nearly 30 years. ST's robots are utilized the world over by companies and institutions such as Lockheed-Martin, Amazon, Motorola, Honeywell, MIT, NASA, Pfizer and Sony, to name a few. The numerous applications for ST's robots benefit the manufacturing, nuclear, pharmaceutical, laboratory and semiconductor industries.
Featured Product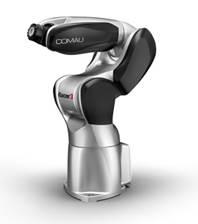 Racer3 is a powerful, high-speed, 6-axis articulated robot featuring a payload of 3kg and a reach of just 630 mm. Built from high-strength aluminum, the newest innovation in Comau robotics is lightweight and can be easily mounted on benches, walls, ceilings or on inclined supports. The third robot within the award-winning Racer family, Racer3 is Comau's response to the growing demand for fast, cost-effective robotic automation within small to medium-sized enterprises and emerging countries. Racer3 is intended for general industry use to increase productivity and reduce overall costs by automating industrial applications. It combines field-proven technology and enhanced dexterity with a keen focus on safety, design and product aesthetics. With a streamlined design and brushed metal exterior, the new powerhouse of a robot combines beauty and speed together with absolute precision and repeatability. Primary applications include assembly, material handling, machine tending, dispensing and pick & place.