Seegrid's director of sales and marketing David Noble recently shared how labor costs can be reduced to $2.24 per hour.
Seegrid's director of sales and marketing David Noble recently shared how labor costs can be reduced to $2.24 per hour. "I took the $70k price and amortized it 24/5 over 5 years. Seegrid is not an AGV and offers a low cost solution to putting people back to work, where they will do value added activities. By leasing, customers see instant savings. Whether manufacturers or distribution centers, companies are seeing immediate bottom-line impacts. They order today, ship next week, start moving pallets the day the robots show up."

Using the phrase, "Make every second count with Seegrid," each second an employee spends driving pallets from one place to another is an opportunity to put cash back into the business. Seegrid's line of flexible Robotic Industrial Trucks positively impacts the bottom line immediately.
Robotic trucks are set up in hours rather than weeks or months, unlike AGVs (which require months of planning for implementation and installation.) The additional extensive IT Integration needed for AGVs often compromises the quality and compliance among the workforce. With no IT integration required and not facility modification required, robotic industrial trucks are often the better choice.
Altered plant floors require new safety and quality documentation, process and procedure controls, and are a hidden cost rarely mentioned by AGV suppliers. Based in Pittsburgh, Pennsylvania, Seegrid Corp. (www.seegrid.com) brings robotic vision-guided technology to the material handling industry. Seegrid offers solutions that optimize workflow processes by increasing productivity and reducing costs, creating economic and operational advantages.
Seegrid technology can transform industrial vehicles into unmanned, automated pallet trucks and tow tractors that operate without a need for wire, tape, laser or other automated guided vehicle guidance systems.
Featured Product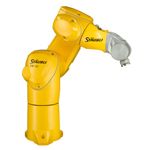 Stäubli offers a complete range of robotic tool changing systems for payloads of 20 kg to 1,530 kg and torsion moments from 30 to 12,500 Nm, designed for use in virtually every industry. The tool changers adapt to customer-specific applications with different modules for media, data, power, etc. The new MPS 130 robotic tool changer is powerful, very robust, and designed for a huge range of applications. It features multiple couplings for air/vacuum connections, and can be equipped with connectors for data and electrical transmission. Very compact dimensions, with a coupled height of only 67 mm, make the MPS 130 the first choice for applications requiring a high number of mating cycles.