1.2-lb Micro-Robot to Provide Both Video and Audio Reconnaissance Capabilities to Warfighters and SWAT personnel
ReconRobotics, Inc., the world leader in tactical micro-robot systems, announced today that it will introduce an advanced military and police robot with state-of-the-art reconnaissance capabilities at the Eurosatory defense and security exhibition to be held June 11-14 in Paris. The Throwbot® XT is a throwable, mobile micro-robot that provides both audio and video reconnaissance of dangerous environments. Military fire teams and SWAT personnel will use the new micro-robot to quickly gain situational awareness during high-risk operations and surveillance missions.

The Throwbot XT is inherently water and dust resistant, weighs just 1.2lbs (540g), and can be thrown up to 120 feet (36m). It is also exceptionally quiet and is equipped with an infrared optical system that activates automatically when the ambient light is low, enabling the operator to see in complete darkness. Once deployed, the micro-robot can be directed by the operator to quietly move through a structure and transmit video and audio to the handheld Operator Control Unit II (OCU II). These stealth capabilities can be utilized to locate armed subjects, confirm the presence of hostages or innocent civilians, listen in on conversations, and reveal the layout of rooms - information that can save lives and increase the success of high-risk operations. The robot may be specified in any of three predetermined transmitting frequencies, enabling operators to use up to three robots in the same environment at the same time.
"Our objective with this product evolution was to dramatically increase the capabilities of our micro-robot without increasing its weight, and we accomplished that," said Jean-Luc Panetta, Vice President of Product Management and Engineering. "We are very mindful of the soldier's burden, and we believe that the new Throwbot XT is, pound-for-pound, the most versatile, robust, stealthy and easy-to-deploy robot system in the world."
In 2007, ReconRobotics introduced the Recon Scout® robot and created an entirely new class of robots called tactical micro-robots. Unlike other military and law enforcement robots, which weighed 40 to 80lbs and were transported in a vehicle, Recon Scout robots were sublimely small and simple. Today, soldiers and SWAT personnel carry their Recon Scout robots in small packs or pockets and deploy them in under five seconds to gain lifesaving situational awareness and greater standoff distance. More than 3,700 of the company's micro-robot systems are deployed by the U.S. military and allied friendly forces, and by nearly 500 police tactical teams and bomb squads, worldwide. Nearly 2,000 of these robots are currently deployed with U.S. Army and Marine Corps fire teams in Afghanistan for use in urban warfare and compound clearing operations.
About ReconRobotics, Inc.
ReconRobotics is the world leader in tactical, micro-robot systems. The company's Recon Scout® and Throwbot® systems save lives by providing immediate situational awareness and greater standoff distance to warfighters and law enforcement personnel. These capabilities protect personnel from hidden threats, enhance mission planning and execution, and minimize collateral damage. The company was formed in 2006 to commercialize robotics technology developed at the University of Minnesota Distributed Robotics Laboratory under funding from the Defense Advanced Research Projects Agency (DARPA). ReconRobotics is based in Edina, Minnesota, USA and markets its products through a distribution network in 33 countries. www.reconrobotics.com
Featured Product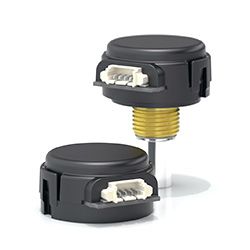 High resolution. Limited space. Not a problem for our latest miniature encoders that provides precise feedback and is easy to install within smaller-sized applications. Now available in 400 and 500 CPRs. Coming in at about the size of a nickel, we've added our proprietary Opto-ASIC sensor technology and improved quadrature for even greater motion control. Product Features: 10 resolutions up to 360 CPR, plus new 400 and 500 CPR resolution; 288 configurations available, including single and differential output; Compact form factor • 0.866 inch (in) / 22.00 millimeter (mm) package outside diameter • 0.446 in / 11.33 mm package height • Fits NEMA 8, 11, 14 and 17 motors; Simple and efficient assembly process • Four-piece construction • Push-on hub disk design, patent pending; 100 kilohertz frequency response; Shafted version up to 0.25 in / 6.25 mm diameter.