To potentially help commercialize cutting-edge robotics technologies.
HOUSTON--Quantum International Corp. (OTCBB: QUAN) is pleased to announce that it has signed a letter of intent with the prestigious Industrial Research Institute for Automation and Measurements (PIAP) in Warsaw, Poland, to potentially help commercialize cutting-edge robotics technologies.

Since 1965, PIAP has been dedicated to fostering the implementation of cutting edge research in automation and robotics in industry. Most recently, PIAP has implemented the production of mobile robots designed to supporting antiterrorist missions.
PIAP collaborates regularly with industrial and scientific organizations in the U.S. and the European Union, making the interdisciplinary institution an excellent fit for Quantum's mission to deliver the next generation of robotics to a hungry, global marketplace.
Robert Federowicz, Quantum International's CEO, says that the company will immediately begin due diligence toward a definitive agreement with PIAP.
"The Institute serves as a leading hub of robotics innovation, and we're very excited by the prospect of working closely with them to develop and market the next wave of revolutionary robots," Federowicz said. "PIAP has a very impressive pipeline of projects in the works that we look forward to examining as we work out a potential deal with them."
For more information on Quantum International's robotics initiatives, please visit http://www.quantuminnovators.com/investors.html.
Quantum International Corp. is working to develop the next generation of robotics technology to compete in a booming global industry alongside Intuitive Surgical, Inc. (NasdaqGS: ISRG), iRobot Corporation (NasdaqGS: IRBT), Medtronic, Inc. (NYSE: MDT) and Dover Corp. (NYSE: DOV).
About Quantum International Corp.
Quantum International Corp. (OTCBB: QUAN) is an emerging robotics innovation company working to commercialize the next generation of sophisticated, automated technology. The Company is positioning itself to develop, deliver and market the most cutting-edge innovations in robotics in order to leverage the worldwide demand for the precision, speed, and cost-effectiveness these technologies offer.
For more information about Quantum International Corp., please visit www.quantuminnovators.com.
Featured Product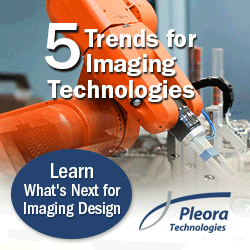 Technology development moves at a dizzying pace and the machine vision industry is no exception. Specific to imaging there is consistent innovation aimed at improving efficiencies, costs, and intelligence. Over the past 12 months, for example, new USB3 Vision™ products have driven the design of higher bandwidth, plug-and-play solutions for imaging applications. What's next for machine vision? This article examines five trends that are expected to influence imaging system design. Sign up at right to receive news and updates on the latest vision technology for medical imaging and you'll receive Five Trends for Imaging Technologies free!