Investment to expand transformer presence in Lodz to serve regional demand
Zurich, Switzerland, July 11, 2012 - ABB, the leading power and automation technology group, will invest around $30 million in a new plant in Poland making components for power and distribution transformers. The new unit will be located next to ABB's existing transformer facilities in Lodz.

The 10,000 sqm factory will be completed by mid 2013 and will employ about 140 people including machine operators and logistics, purchasing, quality and engineering support personnel.
"The new component manufacturing plant will act as a feeder factory for our transformer units in the region" said Bernhard Jucker, head of ABB`s Power Products division. "This investment reinforces ABB's continued commitment to Europe and underlines our strong position in the market".
The new factory will manufacture transformer components to support ABB`s existing transformer manufacturing facilities in Lodz. These units manufacture power transformers rated up to 300 MVA (megavolt ampere) with voltages up to 500 kV (kilovolts) and oil-filled distribution transformers rated from 30 to 2,300 kVA (kilovolt amperes). Both factories serve the European market, and the power transformer operation also serves other regions.
In addition, ABB has a center in Lodz that delivers prefabricated insulation kits and elements to its power transformer factories in Europe, helping them to reduce cycle times and lower costs.
When the new component factory is completed next year, it will bring the total number of ABB employees in Lodz to about 1,000. This is ABB's third investment in Poland in recent years, following the construction of factories to manufacture electric motors and power electronics, which are also located close to Lodz.
ABB (www.abb.com) is a leader in power and automation technologies that enable utility and industry customers to improve their performance while lowering environmental impact. The ABB Group of companies operates in around 100 countries and employs about 145,000 people.
Featured Product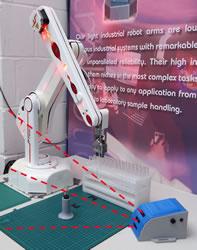 ST Robotics have decades of experience in industrial robots having sold hundreds of robots over the years. The company has 3 main models, R12, R17 and R19 all using a unique simple industrial technology that dramatically reduces costs resulting in the lowest priced industrial robots available. The same uncomplicated technology vastly improves reliability. ST backs this up with a 2 year warranty. Typical applications are routine testing, sample handling and also education. The software is a different paradigm from most robots. It is command based; you type a command and see immediate action. Programming is a building block approach, building confidence as you program in small 'mind-sized bytes'. ST offers free unlimited technical support.