GIA announces the release of a comprehensive global report on Defense Robotics markets. The global market for Defense Robotics is forecast to reach US$7.5 billion by the year 2018, propelled by rapid technological developments and imminent benefits on the warfront. Increased Government spending, technological maturity, and enhanced cost-benefit ratio of the unmanned systems are the major growth drivers for this vibrant sector. In the future, robots will increasingly replace humans on combat ground in all branches of the military, significantly lowering casualties and altering field strategies.
San Jose, CA August 08, 2012

Follow us on LinkedIn - Robots are playing a major role in automating the modern battleground, reducing human deployment and thereby lowering casualties. These pilot-less vehicles are a far throw away from the cumbersome Goliath robots, the first-ever military-application robots, deployed by the German army during the Second World War. Advanced sensor technologies enable robots to spot threats more easily than humans, enhancing the capabilities of combatants and surveillance operatives in land, aerial and marine environments. Beginning from the deployment of improvised robots during the Iraq conflict to seek-out and defuse roadside bombs transition, the sophistication and applications of military robots have surged over time. Robots supplementing field troops at present are expected to evolve into wearable systems and guided vehicles in the near term, and further on become involved directly in combat missions. The market for Unmanned Vehicle Systems (UVS), which constitutes the biggest slice of sector revenues, is segregated into Unmanned Ground Vehicles (UGV), Unmanned Aerial Systems (UAS)/Unmanned Aerial Vehicles (UAVs) and Unmanned Marine Vehicles (UMVs).
Beginning from the deployment of crude improvised robots during the Iraq conflict to seek-out and defuse roadside bombs transition, the sophistication and applications of military robots have surged. The changing dynamics of the battlefield triggered a transition in demand from heavy PackBots and FastTac robots to smaller and more cost-effective models such as SUGVs, BomBots and MARCbots. The Future Combat Systems (FCS) program and other year-2007 initiatives of the US Department of Defense (DoD) envisage the increased use of unmanned robotic systems as a vital part of combat missions by 2025. Robots supplementing field troops at present are expected to evolve into wearable systems and guided vehicles in the near term, and further on become involved directly in combat missions.
The number of robots on the battlefield is expected to increase significantly as small swarms or robots replace the bulky present-day individual units. UGVs with relatively lower per-unit cost are anticipated to make up the bulk of the volume, while the Unmanned Aerial Vehicles (UAVs) that are considered technologically advanced are ahead in terms of sales. UAVs represent a major segment within the aerospace and defense industry, with tactical and long-endurance UAVs projected to dominate the scenario, while mini-UAVs and STUAVs offer high potential over the long-term. Due to the challenges of operating in the marine environment, UMVs are still in the development phase and continue to enjoy higher R&D allocation.
The increasing procurement of the unmanned vehicles is also fuelling an insatiable appetite for associated payloads, control and communication systems and components, as well as training and simulation solutions and servicing. Consequently, the UAV payloads market is anticipated to outpace the broad UAS market in the near term. Technological maturity is enabling diverse application of the robots on the battlefield besides improving the effectiveness, sophistication and affordability of these systems. Border patrolling is another key emerging application for UAVs and UGVs, with the highest demand arising from the US, Israel, South Korea, Japan, India and China.
The United States is the pioneer, and the most technologically advanced market in the global defense robotics sector. The region represents the unchallenged market leader, capturing the largest slice of the world market, as stated by the new market research report on Defense Robotics. Asia-Pacific market, buoyed by strong appetite for the technology from Japan, South Korea, China, and India, represents a strong contender and is anticipated to expand at a robust CAGR of over 8.0% through 2018.
Key industry majors profiled in the report include, AAI Corporation, Allen-Vanguard Corporation, BAE Systems Plc, Cassidian, Cobham Plc, General Atomics Aeronautical Systems Inc., Honeywell Aerospace, iRobot Corporation, MicroStrain Inc., Northrop Grumman Corporation, QinetiQ Group Plc, QinetiQ North America Inc., Thales SA, The Boeing Company, and Ultra Electronics.
The research report titled "Defense Robotics: A Global Strategic Business Report" announced by Global Industry Analysts Inc., critically examines the trends, events, key growth catalysts and deterrents shaping the worldwide defense robotics market. The research highlights the global and national spending on military /defense robots and spotlights the major international and regional players. Annual sales estimates of service robots for military applications are provided in terms of value (US$ million) for major geographic regions including the US, Europe, Asia Pacific (including Japan) and Rest of World (comprising Latin America, Middle East and Africa).
For more details about this comprehensive market research report, please visit -
http://www.strategyr.com/Defense_Robotics_Market_Report.asp
About Global Industry Analysts, Inc.
Global Industry Analysts, Inc., (GIA) is a leading publisher of off-the-shelf market research. Founded in 1987, the company currently employs over 800 people worldwide. Annually, GIA publishes more than 1300 full-scale research reports and analyzes 40,000+ market and technology trends while monitoring more than 126,000 Companies worldwide. Serving over 9500 clients in 27 countries, GIA is recognized today, as one of the world's largest and reputed market research firms.
Featured Product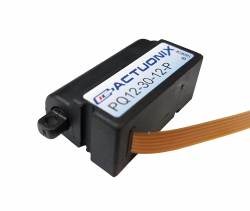 The PQ12-R series of linear servos are the smallest affordable linear servo on the market today. Small enough to fit inside a tic tac box, it's very powerful with a maximum force of over 11lbs. It operates as a direct plug-and-play replacement for standard rotary servos, using the same standard 3 wire connector. Regardless of how you drive your servos, be it with an RC receiver, an Arduino board, or a VEX micro-controller, the PQ12-R servo will function in place of a regular servo, but with the added benefit of providing linear motion. They're available in a 20mm stroke coupled with gear ratio options of 30:1, 63:1 and 100:1 cover a large variety of applications. Our PQ12 is popular used in a variety of robotics applications, medical devices, radio control and 3D printable bionic hands. Our PQ12 is proudly designed in Canada by our in-house team of engineers and thoroughly tested before leaving our facility.