MCE is a server appliance manufacturer that designs, integrates, and deploys custom servers.
SAN JOSE, Calif.--MCE engineering and quality assurance department announced last week that MCE will be teaming with Ultra-X Professional Diagnostic Tools to enhance their existing testing and quality procedures for MCE's Server Appliance Manufacturing services.

As a company focused on consistent quality, MCE has proudly ranked as many of its customer's top partners. Teaming with a company, like Ultra-X used by companies like Intel, AMD, HP, Cisco, SONY, Samsung, and Supermicro - further validates MCE as the premier server appliance manufacturer for software application companies.
"We have successfully validated our quality systems to meet the needs of with our current customers, but are always looking towards the future. We want to ensure make sure that we are continuously evolving and offering continuous improvement to the more custom testing options we offer to our clients," Oscar Saldana, Director of Quality Assurance.
MCE is a server appliance manufacturer that designs, integrates, and deploys custom servers or appliances for clients in the medical, robotics, industrial automation, and communications industries who need a partner to design and build an integrated cluster of servers or a dedicated appliance to deploy their application software product.
Featured Product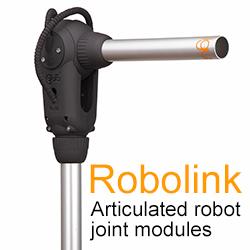 Robolink: Articulated joint modules for robots. igus® now offers a lightweight, maintenance- and corrosion-free range of robot joints for humanoid systems or other automated applications. The carbon-fiber plastic joints can rotate and oscillate freely via four wire ropes. No more expensive milling, cutting or DIY systems. Moving mass is reduced to a minimum. The actuators (engines, pneumatics and hydraulics) and the control module (DP, PC) are kept separate. Contact igus® for more information and free samples.