Ultra-High Speed Camera System
Photron will be launching the Fastcam IS-1M at the forthcoming Photonics West meeting in San Francisco's Moscone Hall, January 24th through 26th.

The IS-1M utilizes a revolutionary ISIS-CCD to capture a blistering one million frames per second (fps) at full resolution of 316 by 260 pixels wide. ISIS-CCD (In-Situ Image Storage-CCD), better known as IS-CCD, uses an image storage buffer immediately beside the light sensitive portion of the 10-bit pixel to greatly increase the speed achievable by conventional high speed cameras.
Extremely light sensitive, Fastcam IS-1M captures a wide range of high speed events, even in low light conditions, while the 100 frame image buffer provides adequate synchronous record duration for the majority of ultra high speed phenomena such as ink jet droplet measurement, micro PIV, combustion, crack propagation or blast dynamics.
Please stop by booth 2013 to see the Fastcam IS-1M and talk to our knowledgeable staff there.
About Photron:
Photron was founded in 1974 to provide manufacturing, sales and service of professional film and video equipment and photo- instrumentation. Since then, Photron has been offering photo optics and electronic technologies to manufacturing industries, the medical field, film laboratories, major movie and television studios, as well as to the military worldwide. The company name "PHOTRON" combines photon and electron, the basic elements that represent our state-of-the-art technologies.
Featured Product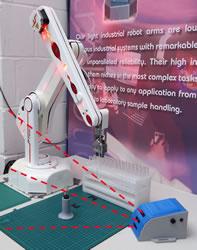 ST Robotics have decades of experience in industrial robots having sold hundreds of robots over the years. The company has 3 main models, R12, R17 and R19 all using a unique simple industrial technology that dramatically reduces costs resulting in the lowest priced industrial robots available. The same uncomplicated technology vastly improves reliability. ST backs this up with a 2 year warranty. Typical applications are routine testing, sample handling and also education. The software is a different paradigm from most robots. It is command based; you type a command and see immediate action. Programming is a building block approach, building confidence as you program in small 'mind-sized bytes'. ST offers free unlimited technical support.