"While not humanoid in appearance, these remote, wireless devices represent the future of consumer robotics," said Quantum CEO Robert Federowicz.
HOUSTON--As Quantum International Corp. (OTCBB: QUAN) works to help deliver the next generation of personal assistance robots, consumers may soon be surprised to discover that cutting-edge 'bots don't need arms or legs to change lives.

In Buffalo, N.Y., a sleek and nimble robot on wheels produced by VGo Communications is allowing a seven-year-old boy confined by allergies to life in a bubble to attend school with other children his age. The fully mobile VGo machine is outfitted with two-way audio and video, allowing student Devon Carrow to interact with his classmates in the classroom, the library and school assemblies.
Another hot new project from a startup company called Galileo offers the promise of an iOS-controlled robotic iPhone platform capable of tilting and panning remotely during a video chat session. Upon its release, users chatting via iPhone can look around the room or follow a speaker during sessions.
Quantum is working on deals that could deliver similar robotics innovations soon.
"While not humanoid in appearance, these remote, wireless devices represent the future of consumer robotics," said Quantum CEO Robert Federowicz. "We can't wait to show our shareholders and robotics enthusiasts worldwide what we've got planned to compete."
Quantum is already pursuing potentially lucrative new robotics targets around the globe. The company is working on a deal with the prestigious Industrial Research Institute for Automation and Measurements (PIAP) in Warsaw, Poland.
In addition, Quantum recently signed an NDA with university researchers in Houston to discuss a possible collaboration on an external brain-to-computer interface technology.
Quantum is focused on aggressive growth as it competes alongside robotics companies including iRobot Corp. (NASDAQ: IRBT), AeroVironment, Inc. (NASDAQ: AVAV) and Intuitive Surgical, Inc. (NASDAQ: ISRG).
For more information on Quantum International's robotics initiatives, please visit http://www.quantuminnovators.com/investors.html.
Follow us on Twitter at www.twitter.com/QuantumIntlCorp.
About Quantum International Corp.
Quantum International Corp. (OTCBB: QUAN) is a robotics innovation company working to commercialize the next generation of sophisticated, automated technology. The Company is positioning itself to develop, deliver and market the most cutting-edge innovations in robotics in order to leverage the worldwide demand for the precision, speed, and cost-effectiveness these technologies offer.
For more information about Quantum International Corp., please visit www.quantuminnovators.com.
Featured Product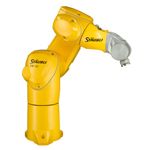 Stäubli offers a complete range of robotic tool changing systems for payloads of 20 kg to 1,530 kg and torsion moments from 30 to 12,500 Nm, designed for use in virtually every industry. The tool changers adapt to customer-specific applications with different modules for media, data, power, etc. The new MPS 130 robotic tool changer is powerful, very robust, and designed for a huge range of applications. It features multiple couplings for air/vacuum connections, and can be equipped with connectors for data and electrical transmission. Very compact dimensions, with a coupled height of only 67 mm, make the MPS 130 the first choice for applications requiring a high number of mating cycles.