Robotics company Quantum International Corp. (OTCBB: QUAN) announced today that it has prepared a letter of intent to present to the University of Houston in order to move forward with negotiations toward a possible joint venture with the school's robotics researchers.

Prof. Jose Luis Contreras-Vidal is leading a team of engineers at the University of Houston that's close to a new breakthrough that could allow wheelchair users to walk by manipulating robotic exoskeletons using only brainwaves.
Quantum signed a non-discloser agreement with the University of Houston this summer. Once the letter of intent has been signed by both parties, Quantum will have weeks to negotiate a possible definitive agreement to help bring the interface technology to market.
For more information on Quantum International's robotics initiatives, please visit www.quantuminnovators.com/investors.html.
Featured Product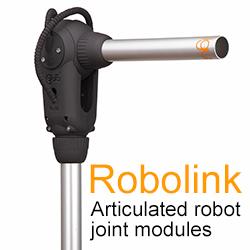 Robolink: Articulated joint modules for robots. igus® now offers a lightweight, maintenance- and corrosion-free range of robot joints for humanoid systems or other automated applications. The carbon-fiber plastic joints can rotate and oscillate freely via four wire ropes. No more expensive milling, cutting or DIY systems. Moving mass is reduced to a minimum. The actuators (engines, pneumatics and hydraulics) and the control module (DP, PC) are kept separate. Contact igus® for more information and free samples.