Thousands of manufacturing professionals, analysts and media from around the world will convene at the Pennsylvania Convention Center in Philadelphia on Nov. 7 and 8 for the 2012 Automation Fair event, hosted by Rockwell Automation. Regarded by the industry as the premier automation experience, the Automation Fair event provides attendees with the opportunity to explore smart, safe, sustainable manufacturing solutions geared toward improving their business profitability.
"The annual Automation Fair event features the industry's largest selection of technical sessions, hands-on labs and industry forums in a single venue," said Keith Nosbusch, chairman and CEO, Rockwell Automation. "Attendees will have opportunities to learn how to enable plantwide optimization, boost machine-builder performance and drive sustainable production."

In addition to Rockwell Automation, over 100 exhibitors covering a wide array of automation products and services will include Rockwell Automation PartnerNetwork member companies, media outlets and universities. The event also will feature 70 technical presentations, 21 workshops, 18 hands-on labs, and eight industry forums featuring customers and experts in the following industries: Automotive, Energy and Environment, Food and Beverage, Global Machine and Equipment Builders, Life Sciences, Marine, Oil and Gas, and Water Wastewater.
The weeklong series of events associated with the Automation Fair event also will include the Manufacturing Perspectives global media forum, Process Solutions User Group annual meeting, and the Safety Automation Forum event.
The Manufacturing Perspectives global media forum will be held 8 a.m. to 1 p.m. on Nov. 6 and will explore the future of smart manufacturing. Industry experts will share global macroeconomic trends impacting manufacturing; how cloud technology can enable flexible manufacturing without compromising security; and the potential effects of mobility on manufacturing technologies and practices.
The Process Solutions User Group annual meeting will take place Nov. 5 and 6, with educational sessions, speakers and customers addressing best practices, trends and challenges in process applications. Attendees also will have the opportunity to provide valuable feedback to drive the development priorities and technology roadmap for the PlantPAx process automation system.
The Safety Automation Forum event will be held Nov. 6 and will feature presentations and educational breakout sessions focused on optimizing safety and increasing productivity. Those unable to attend the forum can take part in the virtual event online, where they will be able to listen to general sessions, ask questions and access presentations.
About Rockwell Automation
Rockwell Automation, Inc. (NYSE: ROK), the world's largest company dedicated to industrial automation and information, makes its customers more productive and the world more sustainable. Headquartered in Milwaukee, Wis., Rockwell Automation employs over 21,000 people serving customers in more than 80 countries.
Featured Product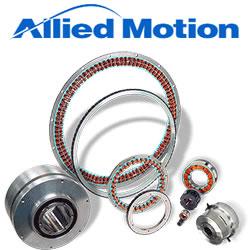 Allied Motion's Megaflux MFH170i series of 170 mm (6.7 in) diameter housed brushless torque motors consists of a high performance brushless DC torque motor, a digital servo drive, and an optical encoder, all integrated into a rugged machined aluminum housing with robust duplex bearings. The MFH0170i series features a 63.5 mm (2.5 in) large-bore through shaft, and is characterized by a very high torque-to-inertia ratio. There are three stack lengths in the series with peak torque ranging from 8.5 up to 16.9 Nm (75 up to 150 lb-in). The standard winding voltage is 48 V. And to ease the hassle of long leadtimes for prototypes, the new MFH170i is now available through our QuickShip program.