Orders for iRobot 310 SUGV spares and controllers
BEDFORD, Mass.--iRobot Corp. (NASDAQ: IRBT), a leader in delivering robotic technology-based solutions, has received a $10 million indefinite delivery/indefinite quantity (IDIQ) contract from the U.S. Army's Robotic Systems Joint Program Office (RSJPO) for maintenance training and spares for the iRobot 310 SUGV. An initial $2 million order under the contract for spares has also been placed. Deliveries will be completed by Q1 2013.

The iRobot 310 SUGV is a man-portable robot for dismounted mobile operations. SUGV enters areas that are inaccessible or too dangerous for people, providing state-of-the-art technology for infantry troops, combat engineers, mobile EOD technicians and other personnel.
In addition, iRobot has received a $3.7 million order from the RSJPO for heads-down controllers. The handheld controller includes a 5.6" LCD display screen that is sunlight readable. This order is separate from the IDIQ contract, and deliveries will be completed by Q4 2012.
"iRobot is pleased to continue its partnership with the Army to provide world class robotic capabilities that help keep our warfighters out of harm's way," said Frank Wilson, senior vice president and general manager of iRobot's Defense & Security business unit. "We are delivering the heads-down controller in response to specific requests from the field. This easy to use controller provides the operator with a high degree of situational awareness while conducting dangerous missions."
iRobot has delivered more than 5,000 robots to military and civil defense forces. The robots perform multiple missions on the land and in the water, protecting troops, saving lives and making a difference around the world.
About iRobot Corp.
iRobot designs and builds robots that make a difference. The company's home robots help people with smarter ways to clean, and its defense & security robots protect those in harm's way. iRobot's consumer and military robots feature iRobot Aware® robot intelligence systems, proprietary technology incorporating advanced concepts in navigation, mobility, manipulation and artificial intelligence. For more information about iRobot, please visit www.irobot.com.
Featured Product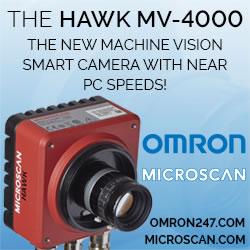 Space, or the lack of it, can be a challenge when placing barcodes or Data Matrix symbols on components. However, readable barcodes are critical to component traceability, time/date stamping, work in progress (WIP) tracking, and recall management. MicroHAWK UHD smart cameras can decode very small and difficult-to-read barcodes, including Data Matrix two-dimensional (2D) symbols and direct part marks (DPM). Users can rely on the MicroHAWK UHD to read symbols with an x-dimension almost invisible to the naked eye!