New RP-VITA optimizes tele-medicine experience for coordinating patient care to be demonstrated at RoboBusiness 2012 in Pittsburgh.
FRAMINGHAM, MA - OCTOBER 19, 2012 - RoboBusiness has announced that Youssef Saleh, iRobot's Vice President and General Manager for their Remote Presence business unit and Yulun Wang , CEO of InTouch Health will provide one of the first public demonstrations of RP-VITA at the RoboBusiness 2012 Leadership Summit taking place October 22-24, 2012 at Pittsburgh Marriott City Center in Pittsburgh, PA ( www.robobusiness.com). In this interactive demonstration, RP-VITA will be demonstrated on stage and remotely from a hospital-like setting where the robot can be used to dramatically increase the effectiveness and reach of healthcare professionals.

Youssef Saleh oversees iRobot's Remote Presence business unit's strategy of developing autonomous mobile robots equipped with tele-presence technologies for a number of different applications. Saleh previously served as Vice President and General Manager of Telepresence & Vertical Solutions at Polycom, Inc., and built their telepresence business into its fastest growing profit center. Yulun Wang, Ph.D.,is the Chairman & Chief Executive Officer, of InTouch Health where he leads the company's effort to develop remote presence solutions for the ever-changing healthcare environment.
The session "Remote Presence in Healthcare and Beyond" will take place on Wed., Oct. 24 at 3:00pm.
Announced in July, RP-VITA is the first remote presence solution for patient care that combines cutting edge telemedicine technology from InTouch Health with the latest in autonomous navigation and mobility systems developed by iRobot for its Ava mobile robotics platform. This significant advancement in robotic technology allows a physician to make medical decisions and direct patient care from anywhere in the world in critical departments such as the Intensive Care Unit and Emergency Department. RP-VITA will be sold by InTouch Health as its new flagship remote presence device. iRobot will continue to explore adjacent market opportunities for robots like RP-VITA and iRobot Ava.
Attendees of RoboBusiness 2012 will learn about product features on RP-VITA and explore how the platform could be applied to other markets during the RoboBusiness exposition. Witness the demonstration on Wed., Oct. 24 at 3:00pm as part of the Applications & Markets Track.
For media inquiries, please contact Erin Rapacki at rbls12media@gmail.com.
For sponsorship information, contact Rich Erb at rerb@ehpub.com or 508-663-1500 x331.
For more information and to register to attend visit www.robobusiness.com.
ABOUT ROBOTICS TRENDS MEDIA GROUP
Robotics Trends Media Group is the world's first integrated media company serving the burgeoning personal, service and mobile robotics marketplace: Robotics Trends Publishing (www.roboticstrends.com), Robotics Business Review (www.roboticsbusinessreview.com ); and Robotics Trends Events, which produces the RoboBusiness Leadership Summit (www.robobusiness.com), and the virtual conferences (www.robovirtualevents.com).
Featured Product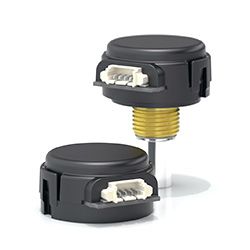 US Digital is pleased to announce the launch of the E4T, their latest series of miniature high performance optical encoders. The E4T series delivers a marked performance increase over similar encoder models and designed to be an enhanced replacement for the E4P encoder series. The E4T utilizes state of the art transmissive optical sensing technology, and incorporates US Digital's own proprietary OptoASIC. Assembly of the E4T is simple and efficient and retains the previous E4P's form factor. Key features of the new E4T include: • Mechanically and Electrically Interchangeable with E4P • Improved Quadrature Signal Strength • 100 kHz Frequency Response • Transmissive Optical Design • Collet Style Push on Optical Disk Design (Patent Pending) • Simple & Efficient Assembly Process As with all of our products the E4T is designed and manufactured in their Vancouver, Washington USA facility and is available for purchase as of December 2014.