The Cutting Edge News and Views Auto Website Features the Chiba Robotics Walking Wheelchair Among the Hot Rods, Hybrids and Hemis.
Rogers, AR October 31, 2012

Among the daily stream of Gearheads.org articles on the latest car and truck models, classic cars, and auto efficiency is a mechanical design of a different kind: The Chiba Robotics Wheelchair, a technological breakthrough of interest to gearheads everywhere, begging the question: could robotic advances in wheelchair technology have a future impact on the automobile? It sounds like the stuff of science fiction, but it may not be as far-fetched as people think.
The Chiba Robotics Wheelchair differs from other modern wheelchairs in a fundamental way: instead of simply rolling (making curbs, steps and uneven terrain unmanageable), it "walks" with robotic legs when necessary. The wheelchair, which automatically allows its owner to switch from motorized rolling on wheels to legs depending on the environment, keeps the person safely stable the whole time.
"Imagine a car that automatically balances itself with robotic legs instead of rolling over on a steep incline," says Gearheads.org co-owner Brian Barret. "If cars could walk, there would be a whole new definition of 'all-terrain vehicle.'"
Chiba has no plans to implement their motorized wheel-legs onto automobiles; getting the technology right on a wheelchair is challenging enough. But, just as robotics may well change the face of wheelchairs for the disabled, they will likely play a part in the cars and trucks of the future.
Always on the lookout for hot topics of interest to the mechanical hobbyist, the GearHeads.org staff is made up of auto enthusiasts from industry insiders to passionate drivers, all providing news, opinion, and gossip from the automotive world.
To keep up with the latest offerings, GearHeads.org offers a Twitter feed, a Facebook fan page, and a Google+ profile. There's no edgier source for car information, news, reviews, and rumors. Access to Gearheads.org is free, and no membership or registration is required.
About GearHeads.org
Led by Chris Riley and Bryan Barrett, GearHeads.org is a haven for car enthusiasts, casual drivers, car shoppers, automotive journalists and all-around gear heads who crave a trusted source where they can access the latest information, news, reviews, rants and rumors. Learn more at GearHeads.org. legacy - and some of the boldest, edgiest views on cars around.
Featured Product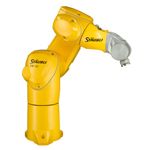 TX2 series of robots: the next generation of fast and precise 6-axis robots. This new robot range is redefining performance with the optimum balance of speed, rigidity, size and envelope. Those pioneer robots can be used in all areas, including sensitive and restrictive environments thanks to their unique features. Known worldwide for the quality of our design and innovation for more than a century, the Stäubli Group has brought its renowned engineering expertise and technological ingenuity to the forefront of robotics. Since 1982, we have built a highly regarded robotics business, and more significantly, transformed the way thousands of manufacturing operations perform. Today Stäubli Robotics is a leading player in robotics around the world, consistently delivering engineering as effective and reliable as our service and support.