Combining logic, motion and visualization in a smart integrated device for machine-oriented applications, the panel controller p500 delivers a scalable platform and precision control for optimal manufacturing results
UXBRIDGE, MA - OCTOBER 28, 2012 - Leading global manufacturer of electrical and mechanical drives, motion control and automation technology, Lenze Americas, has launched a powerful hardware platform for machine-oriented visualization and control applications. Based on the proven architecture of the controller 3200 C, the new panel controller p500 complements an extensive Lenze portfolio of motion control products and software. Available in three convenient screen sizes (7, 10.4 and 15 inch), the 'all-in-one' panel controller p500 series is equipped with a touch-sensitive thin-film transistor (TFT) display.

"Designed for virtually all modern automation systems, the all-in-one panel controller p500 offers an ideal solution for easy deployment in both centralized and decentralized architectures," states Craig Dahlquist, Automation Product Leader, Lenze Americas. "The maintenance-free p500 delivers top performance in the smallest of spaces with no forced cooling or moving parts. It is the perfect combination of logic (PLC), motion and visualization in a single device."
The high computing capacity of the panel controller p500 is provided by a 1.6GHz Intel® Atom™ processor. Combining one gigabyte of internal main memory, two gigabytes of flash memory to replace the conventional hard disk, and an SD card slot for application data, the powerful p500 solution can be equipped with a soft program logic controller (PLC) for more demanding visualization applications. The compact panel controller p500 offers a fanless device in protection class IP65 (front) for resistance to shock and vibration and optimal performance in machine installations. The maintenance-free p500 uses a super capacitor in lieu of a standard buffer battery in the internal clock. A maintenance-free internal UPS automatically stores and retains data in the event of a power outage. For higher power capacity the panel controller p500 can be expanded with an external UPS.
The basic features of the panel controller p500 include two 100MB Ethernet interfaces on-board that combine the functionalities of an integrated switch, an EtherCAT interface (master) and two USB connections in a single platform. A standard slot is provided that can be used for the addition of communication cards (e.g. CAN, PROFIBUS Slave) to the devices. The modular construction makes installation quick and easy.
"A smart blend of advanced technologies for controller-based automation, the all-in-one, maintenance-free panel controller p500 brings the future of easy motion control to manufacturers," adds Dahlquist.
Lenze panel controller p500 devices are compliant with IEC 61131-3, PLCopen, and PLC Designer based on CoDeSys 3. For more information, please visit: http://www.lenze.com/en/products/controls/controller-p500/.
About Lenze Americas
Lenze is a global manufacturer of electrical and mechanical drives, motion control and automation technology. Our products can be found in many industries, including automotive, packaging, material handling and logistics, robotics, and commercial equipment (pumps/fans). A global network of distributors and representatives makes Lenze Americas perfectly positioned to meet the motion control needs of customers worldwide. Lenze Americas, the American subsidiary of Lenze SE of Germany, is headquartered in Uxbridge, Massachusetts; corporate global headquarters are in Hamelin, Germany. Lenze Americas can be found online at http://www.lenzeamericas.com/.
Featured Product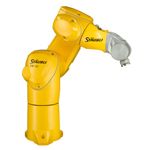 Stäubli offers a complete range of robotic tool changing systems for payloads of 20 kg to 1,530 kg and torsion moments from 30 to 12,500 Nm, designed for use in virtually every industry. The tool changers adapt to customer-specific applications with different modules for media, data, power, etc. The new MPS 130 robotic tool changer is powerful, very robust, and designed for a huge range of applications. It features multiple couplings for air/vacuum connections, and can be equipped with connectors for data and electrical transmission. Very compact dimensions, with a coupled height of only 67 mm, make the MPS 130 the first choice for applications requiring a high number of mating cycles.