Fastec Imaging is pleased to announce that Wojciech Majewski has joined the company as General Manager - Asia Pacific, effective October 1, 2012.
SINGAPORE- Fastec Imaging is pleased to announce that Wojciech Majewski has joined the company as General Manager - Asia Pacific, effective October 1, 2012. We are excited to have a channel manager with Wojciech's excellent international sales management experience join the company.

Wojciech has spent the last twelve years in Southeast Asia in senior international sales management positions. During this time Wojciech was Director of International Sales for Landwind Medical, a Shenzhen, China based multi-billion dollar manufacturer of medical equipment. Mr. Majewski also worked in International Sales for Venture Corporation Ltd., the largest Contract Manufacturer in Southeast Asia which is based in Singapore.
Mr. Majewski was also General Manager for Roper/Redlake MASD, a global leader in high-speed imaging, based in Singapore. Among Wojciech's many accomplishments was a quadrupling of Roper's high-speed and industrial camera business in Asia in less than four years.
Mr. Majewski speaks seven languages fluently and is conversant in eight more. He has a BS in Computer Sciences from Technical University of Ilmenau, Germany and started his career as a programmer for companies in Germany and the Silicon Valley. With his proven track record of growing international sales Mr. Majewski greatly strengthens Fastec Imaging's Asia presence.
About Fastec
Fastec Imaging Corporation is dedicated to designing and manufacturing high-speed digital imaging solutions that are easy to use and cost effective. Thousands of Fastec high-speed cameras are in use worldwide in diverse industries including Food & Beverage, Converted Paper, Personal Care, Pharmaceutical, Military, Mining, Broadcast and Academic Research.
Fastec was founded in 2003 and is located in San Diego, California. All Fastec cameras are designed by an in-house team of engineers and manufactured locally in Southern California. Fastec sells through a network of more than 40 independent distributors located in more than 30 countries.
Fastec has three product families which are, Handheld point and shoot cameras, Tethered PC controlled cameras and Long Record Systems. Individual products include the TS3, HiSpec and LTR cameras.
Featured Product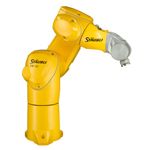 Stäubli offers a complete range of robotic tool changing systems for payloads of 20 kg to 1,530 kg and torsion moments from 30 to 12,500 Nm, designed for use in virtually every industry. The tool changers adapt to customer-specific applications with different modules for media, data, power, etc. The new MPS 130 robotic tool changer is powerful, very robust, and designed for a huge range of applications. It features multiple couplings for air/vacuum connections, and can be equipped with connectors for data and electrical transmission. Very compact dimensions, with a coupled height of only 67 mm, make the MPS 130 the first choice for applications requiring a high number of mating cycles.