With Closed Loop Speed Control and Minimal External Components
Worcester, MA - Allegro MicroSystems, Inc. announces a new three phase brushless DC motor driver IC with BEMF sensing for commutation control. Allegro's A4942 device has a maximum operating voltage is 16 V at up to 1.45 A. This new fan driver is targeted at the industrial and office automation markets and was designed for fan and blower applications.

The motor drive system consists of three P-Channel high side N-Channel low side DMOS half bridges, closed loop speed control with minimum and maximum speed settings, soft switching, soft start, internal PWM current limit control, BEMF sensing circuits, adaptive commutation control, and state sequencer. The sequencer determines which output devices are active. The BEMF sensing circuits and adaptive commutation circuits determine when the state sequencer advances to the next state. The three half-bridge outputs are controlled by the state sequencer with six possible states. Motor BEMF is sensed at the tri-stated output for each state. BEMF sensed motor commutation relies on the accurate comparison of the voltage on the tri-stated output to the voltage at the center tap of the motor. The BEMF zero crossing, the point where the tri-stated motor winding voltage crosses the center tap voltage, is used as a positional reference. The zero crossing occurs roughly halfway through one commutation cycle.
At startup, commutations are provided by an onboard oscillator controlled with an external capacitor. These commutations are part of the startup scheme, to step the motor to generate BEMF voltage until legitimate BEMF zero crossings are detected and normal BEMF sensing commutation is achieved.
Motor start-up current (Soft Start) is controlled with an external capacitor which ramps up the output current to reduce current surges at startup. Output current is controlled by an internal fixed off time PWM current regulator that does not require and external sense resistor but if a lower current limit is required a sense resistor can be added. Output speed can be monitored with the FG output.
Motor current transients at commutation points result in disruptions in motor speed that cause fan audible noise. The A4942 soft switching feature reduces the rate of change of the motor output current resulting in reduced motor speed variations and lower fan audible noise.
BLDC motor efficiency can be increased at high speed by adjusting lead angle (phase advance) of motor commutation. The A4942 has three phase angle settings from 6 degrees to 24 degrees.
Motor speed is controlled with the input duty of the PWM input. Closed loop speed control insures that the fan speed and therefore airflow performance will not vary with motor or load variations. Closed loop speed control is implemented with an internal frequency locked loop with external capacitor to set loop bandwidth. PWM input duty is normally directly proportional to output speed but the slope of this speed function can be modified with the minimum and maximum speed settings. Motor output current PWM is independent of input PWM used for speed control.
Protection features include thermal shutdown with hysteresis, under voltage lockout (UVLO), crossover current and locked rotor protection with auto restart, internal PWM current limit.
The A4942GES-T is supplied in a 20 lead 4 mm × 4 mm QFN package with exposed power tab. The package is lead (Pb) free, with 100% matte tin leadframe plating.
Allegro MicroSystems, Inc. is a leader in developing, manufacturing and marketing high-performance semiconductors. Allegro's innovative solutions serve high-growth applications within the automotive market, with additional focus on office automation, industrial, and consumer/communications solutions. Allegro is headquartered in Worcester, Massachusetts (USA) with design, applications, and sales support centers located worldwide. Further information about Allegro can be found at www.allegromicro.com.
Featured Product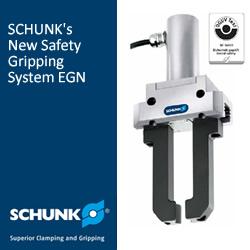 With the SLS, SOS, and STO functionalities, the SCHUNK EGN gripping system certified in accordance with DIN EN ISO 13849 enables safe human/machine collaboration. If the production process is interrupted by an emergency shut-off, the SCHUNK EGN goes into either a safely limited speed mode or a safe stop mode depending on the activated protection zone. In contrast to other solutions available on the market, the SCHUNK safety gripping system is continuously powered even in the safe operating stop so that the gripped parts are reliably held even without mechanical maintenance of gripping force. As soon as the protection zone is released, the gripper immediately switches back to the regular operating mode without the system having to be restarted.