IMTS 2014 will be held Sept. 8-13 at Chicago's McCormick Place.
McLean, Virginia - November 27, 2012 - The International Manufacturing Technology Show has named Buffalo, N.Y.-based Crowley Webb as its media agency. IMTS 2014 will be held Sept. 8-13 at Chicago's McCormick Place.

Crowley Webb will handle media planning, negotiation and placement for future IMTS advertising, as well as other special show marketing projects for IMTS and its owner AMT - The Association For Manufacturing Technology.
"From the minute we met the Crowley Webb team, it was clear that they had one central desire, and that is to use their skill sets as an agency and forge a relationship built on respect with our existing marketing team. Together, we will build the IMTS brand and continue to make the show a resounding success for both exhibitors and visitors," says John Krisko, IMTS Director - Exhibitions."
Crowley Webb CEO Jim Hettich says, "We are excited and enthused to be part of IMTS and focus our energy on promoting what is one of the world's most important events in connecting global technology producers and consumers. We are eager to begin the IMTS 2014 planning process."
The IMTS "team marketing" approach is a drastic departure from the standard. "We have successfully created a virtual team of very creative and talented professionals to support us in planning and implementing a focused approach to marketing our event," Krisko continues. "Using this model, we are able to combine internal staff expertise with this talented group of dynamic partners to give us a truly unique program."
The IMTS marketing team is comprised of the AMT Exhibitions and Communications staff; Clearly Write, a media relations and marketing services provider; Crowley Webb, an advertising agency; and ThinkingCap, a creative services firm.
For more information on IMTS and to join the IMTS community, visit IMTS.com.
IMTS - International Manufacturing Technology Show
The largest and longest running manufacturing technology trade show in the United States is held every other year at McCormick Place in Chicago, Ill. IMTS 2014 will run September 8-13. IMTS is ranked among the largest trade shows in the world. Recognized as one of the world's preeminent stages for introducing and selling manufacturing equipment and technology, IMTS attracts more than 100,000 visitors from every level of industry and more than 119 countries. IMTS is owned and managed by AMT - The Association For Manufacturing Technology. www.IMTS.com
AMT - The Association For Manufacturing Technology
Founded in 1902 as the National Machine Tool Builders' Association, AMT supports and promotes the U.S. manufacturing technology industry. The association provides U.S. builders of manufacturing systems with the latest information on technical developments, trade and marketing opportunities, and economic issues. It also gathers and disseminates information about world markets, promotes its members' products in those markets, and acts as a representative on manufacturing technology matters to governments and trade organizations throughout the world.
Featured Product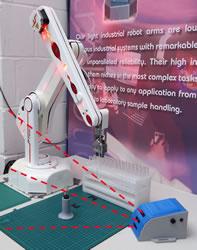 ST Robotics have decades of experience in industrial robots having sold hundreds of robots over the years. The company has 3 main models, R12, R17 and R19 all using a unique simple industrial technology that dramatically reduces costs resulting in the lowest priced industrial robots available. The same uncomplicated technology vastly improves reliability. ST backs this up with a 2 year warranty. Typical applications are routine testing, sample handling and also education. The software is a different paradigm from most robots. It is command based; you type a command and see immediate action. Programming is a building block approach, building confidence as you program in small 'mind-sized bytes'. ST offers free unlimited technical support.