LineBot to launch Drink Runner, a line-following service robot that delivers individual drinks in total darkness non-stop for up to 4 per charge.
Bellaire, Texas December 05, 2012

On December 10, 2012, LineBot will launch a Kickstarter project to raise funds for Drink Runner, a line-following service robot that delivers individual drinks in total darkness non-stop for up to 4 hours per charge. Swarms of them act like a conveyor belt, shuttling drinks along a closed-loop course.
As a reward for their early support, the first 350 Founders to pledge $199 or more will receive a robot which would normally retail for $299 or more. Those who order multiple units can request customized Drink Runners, so their guests can easily distinguish one unit from another.
To load and unload drinks, a user blocks Drink Runner's path to stop it and removes the obstacle to let it go. When Drink Runner sees in the infrared spectrum, it can follow a line and detect obstacles in total darkness. Consequently, a Drink Runner will never collide with another unit.
Drink Runner may look delicate, but it's built for daily use. Its impact-resistant polycarbonate shell protects it against accidental falls and spilled drinks. Drink Runner's 6 AA NiMH batteries power it for up to 4 hours per charge and can be recharged up to 1000 times.
"For guests, automated drink delivery means better service and a fun way to meet people. For business owners, it means more sales. Less waiting = more drinking = bigger tabs = better tips." - David Myers, LineBot Founder
About LineBot
LineBot is an international group of craftsmen, programmers, and engineers who are on a mission to design and manufacture inexpensive, easy-to-use, durable robots for the service industry.
Featured Product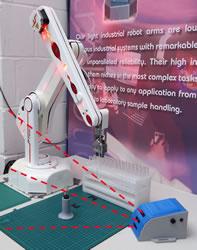 The 6-axis version of the R17HS high speed variant of the R17 robot is now available. As is our policy the 6th axis is an optional bolt-on module. At the same time we have made it even faster and new software eliminates shake and greatly improves repeatability as this video shows. Please see https://www.youtube.com/watch?v=3wG0MeiJ-yE. The video would seem to imply a repeatability of 0.01mm but we are sticking with 0.2mm in the spec. The motor specialist was able to tune the motors from the other side of the pond. My first reaction when we put power on and entered the first commands was to jump back in amazement (and maybe an expletive). Tip speed is now 3m/s; that's 3 times as fast as its nearest competitor yet costs half the price. I love it when a plan comes together.