LineBot to launch Drink Runner, a line-following service robot that delivers individual drinks in total darkness non-stop for up to 4 per charge.
Bellaire, Texas December 05, 2012

On December 10, 2012, LineBot will launch a Kickstarter project to raise funds for Drink Runner, a line-following service robot that delivers individual drinks in total darkness non-stop for up to 4 hours per charge. Swarms of them act like a conveyor belt, shuttling drinks along a closed-loop course.
As a reward for their early support, the first 350 Founders to pledge $199 or more will receive a robot which would normally retail for $299 or more. Those who order multiple units can request customized Drink Runners, so their guests can easily distinguish one unit from another.
To load and unload drinks, a user blocks Drink Runner's path to stop it and removes the obstacle to let it go. When Drink Runner sees in the infrared spectrum, it can follow a line and detect obstacles in total darkness. Consequently, a Drink Runner will never collide with another unit.
Drink Runner may look delicate, but it's built for daily use. Its impact-resistant polycarbonate shell protects it against accidental falls and spilled drinks. Drink Runner's 6 AA NiMH batteries power it for up to 4 hours per charge and can be recharged up to 1000 times.
"For guests, automated drink delivery means better service and a fun way to meet people. For business owners, it means more sales. Less waiting = more drinking = bigger tabs = better tips." - David Myers, LineBot Founder
About LineBot
LineBot is an international group of craftsmen, programmers, and engineers who are on a mission to design and manufacture inexpensive, easy-to-use, durable robots for the service industry.
Featured Product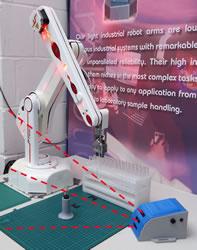 ST Robotics have decades of experience in industrial robots having sold hundreds of robots over the years. The company has 3 main models, R12, R17 and R19 all using a unique simple industrial technology that dramatically reduces costs resulting in the lowest priced industrial robots available. The same uncomplicated technology vastly improves reliability. ST backs this up with a 2 year warranty. Typical applications are routine testing, sample handling and also education. The software is a different paradigm from most robots. It is command based; you type a command and see immediate action. Programming is a building block approach, building confidence as you program in small 'mind-sized bytes'. ST offers free unlimited technical support.