ESAB Welding & Cutting Products showcased several new products and innovative processes at Fabtech 2012 in Las Vegas.
Florence, SC December 20, 2012

ESAB Welding & Cutting Products showcased several new products and innovative processes at Fabtech 2012 in Las Vegas. Held November 12-14, 2012, more than 26,000 people attended the show, which is the largest metal forming, fabricating, welding and finishing event in North America.
ESAB unveiled Warrior - a new multi-process power source and feeder. Warrior is designed for shipbuilding, rail car construction, mobile machinery construction, energy generation construction, pipe welding, general fabrication, and repair and maintenance. Developed for GMAW (MIG), FCAW (Flux-Cored), SMAW (Stick), and GTAW (TIG) welding, as well as ACAG (Arc Gouging), Warrior delivers up to 500 amps @ 60% duty cycle.
"Warrior was a big hit at Fabtech," said Greg Stauffer, Vice President for Sales Support and Standard Equipment (ESAB North America). "Our customers told us they needed a rugged, workhorse of a machine that could withstand harsh welding environments. Warrior gives them superior welds time after time - you have the reliability and efficiency of inverter technology."
ESAB also showcased the PowerCut 400 - one of the newest additions to the Plasmarc PowerCut line of manual plasma cutting systems. The PowerCut 400 can cut metal up to 3/8" thick.
In addition, ESAB also introduced the Purox Elite Series of gas apparatus products, which delivers top-of-the-line quality at a competitive price.
ESAB Cutting Systems exhibited a wide range of innovative products on its Avenger X large cutting gantry. Including a plasma beveling system, a new drill station and enhanced software capabilities.
ESAB Automation announced its partnership with KUKA Robotics. They've teamed up to produce a complete package of ready-to-weld robotic equipment: the new Swift Arc AL Robotic Welding Cell. This angle loader robot system is an economic configuration for a complete work cell - ideal for job shops introducing robotics to their applications.
With more than 100 years of experience, ESAB Welding & Cutting Products is one of the world's largest and most skilled manufacturers of welding and cutting equipment and welding filler metals. Recognized as the technological leader in the industry, ESAB is committed to providing customized solutions for their customers. For more information, visit http://www.esabna.com or call 1-800-ESAB123.
Featured Product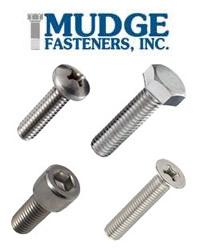 From very small to very large fasteners, in a wide array of materials and platings from stainless steel to cadmium to silver, Mudge Fasteners is a one-stop shop for all Robotics screws, bolts, nuts, washers, inserts, adhesives and more. With over 60,000 products in stock, Mudge also offers custom kitting and packaging, documentation support, specials manufactured to print, performance mockups, fabrication and production consulting.