Mobile CAD apps were born in recent years. Its main function is to assist users to view and edit drawings on their iOS or Android devices.
Mobile CAD apps were born in recent years. Its main function is to assist users to view and edit drawings on their iOS or Android devices. However, because of its own disadvantages, the popularization and promotion of mobile CAD software was blocked. So, Gstarsoft released GstarCAD MC PRO to solve these problems.

While viewing the drawings on a mobile device, the compatibility is the most widely criticized problem by users. Because most of the mobile CAD software cannot read or write .dwg drawings directly, users have to convert the drawings to a specified format before viewing. Besides, a lot of drawings will appear mistakes after transfer to mobile devices.
These problems are undoubtedly critical to users' experience of mobile CAD. When smart mobile devices were springing up, it was also a harsh time for video playing apps; users had to convert the videos to a specific format before playing it on a smart device. Therefore, many users thought the function was just a useless "toy". The video playing apps didn't become popular until the mode of direct playing was widespread.
The situation that mobile CAD is facing is the same as video playing apps. But the problem of compatibility was solved by GstarCAD MC PRO perfectly.
During the development of GstarCAD MC PRO, Gstarsoft did a deep research according to the requirements of users. And depending on the powerful strength of technology, Gstarsoft created an entirely new core; it can edit a drawing more efficiently. Besides it is perfectly compatible with .dwg format and high performance is another amazing advantage.
Furthermore, GstarCAD MC PRO revised the bugs of East Asian text displaying and network transmission of drawings. It will bring users a more excellent and faster mobile cad experience.
Download GstarCAD MC PRO (for iOS):
https://itunes.apple.com/us/app/gstarcad-mc-pro/id555578651?mt=8
Download GstarCAD MC PRO (for Android): http://www.gstarcad.net/cad_143_79.html
About Gstarsoft
Founded in 1992, Suzhou Gstarsoft Co., Ltd is the leading provider of 2D/3D CAD software and solutions for the industries. With more than 18 years of proud history of technology innovation and practical application, the company is dedicated to providing fast, powerful and DWG-compatible CAD software for customers and partners worldwide.
Suzhou Gstarsoft Beijing Branch
Room 305, Block A, Kejicaifu
(Technology&Fortune) Center,
NO.8, XueQing Road, Haidian District
Beijing, 100085, China
Tel: +86 10 82736618
http://www.gstarcad.net
Featured Product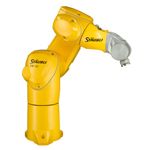 Stäubli offers a complete range of robotic tool changing systems for payloads of 20 kg to 1,530 kg and torsion moments from 30 to 12,500 Nm, designed for use in virtually every industry. The tool changers adapt to customer-specific applications with different modules for media, data, power, etc. The new MPS 130 robotic tool changer is powerful, very robust, and designed for a huge range of applications. It features multiple couplings for air/vacuum connections, and can be equipped with connectors for data and electrical transmission. Very compact dimensions, with a coupled height of only 67 mm, make the MPS 130 the first choice for applications requiring a high number of mating cycles.