Company Prepares for Commercialization of the Groundbreaking Flex™ Robotic System in Otolaryngology
RAYNHAM, Mass.--Medrobotics Corp., an emerging medical robotics company developing the innovative Flex™ Robotic System, announced today the conversion of notes totaling $33.6 Million purchased through recent financings into Series D Preferred Stock. Existing Medrobotics shareholders and undisclosed new investors participated in the Series D raise. Proceeds will be used for regulatory preparations and submissions and for anticipated commercial launches next year in Europe and the United States.

"Patients, surgeons, and hospitals will all benefit from the Flex Robotic System's enabling minimally invasive surgical technology," said Samuel Straface, Ph.D., president and CEO of Medrobotics. "The Flex Robotic System will provide transoral single-site access and visualization for surgery in hard-to-reach locations in the throat and voice box. Minimally invasive surgery has been shown to be more cost-effective and less painful for the patient and also leads to quicker hospital discharge and faster recovery."
The Flex Robotic System is anticipated to provide a cost‐effective, robot-assisted surgical platform for hospitals and surgeons eager to expand their offering of minimally invasive treatment options. In addition to ENT, the platform is being developed for several other single-site access surgical applications with difficult-to-reach anatomies.
About Medrobotics
Medrobotics Corporation (www.Medrobotics.com) is a privately held company headquartered in Raynham, Massachusetts, that is developing and commercializing the Flex Robotic System, a robotic-assist platform that enables surgeons to gain single-site access and visualization to difficult-to-access anatomical locations. The robot provides a precise and stable platform for enhanced visualization and enables two-handed dexterity with compatible third-party tools having tactile feedback.
Featured Product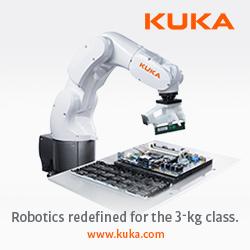 Great advances often start with small steps - in manufacturing cells measuring only 600 × 600 mm. Here, the KR 3 AGILUS is in its element. Particularly in the case of small parts and products which must be produced in a minimum of space. KUKA expertise, concentrated into the smallest of spaces, is setting new standards for the 3-kg class. The lightweight robot masters various tasks with agility, dynamism and maximum precision, leading to high flexibility in production - even when it comes to extremely narrow spaces.