New report provides readers with a detailed analysis of the global counter IED market.
3 January 2013

The Global Counter IED Market 2012-2022 report provides detailed analysis of the global counter IED market over the next ten years, alongside potential market opportunities to enter the industry, using detailed market size forecasts.
The report states that the global counter IED market is expected to be worth US$3.6 billion by 2022. The demand for counter IED equipment is anticipated to be driven by internal and external security threats, territorial disputes, modernisation initiatives, technological innovations and a substantial demand for counter IED systems for coalition forces in Afghanistan. The market is expected to be dominated by North America, followed by Europe and Asia-Pacific.
According to the 155 page report, North America accounts for the highest spending in the global counter IED market. Most of the expenditure can be attributed to the US, with Canada accounting for a small share. Both the US and Canada have allocated a major portion of their counter IED budget towards saving the lives of their soldiers deployed in Iraq and Afghanistan for peace keeping missions. A major share of expenditure is focused on areas such as counter IED vehicles, detection systems, electronic jammers, and other bomb-foiling technologies and unmanned systems. However, the expenditure on counter IED initiatives is expected to decline with the withdrawal of forces from Iraq and Afghanistan.
Featured Product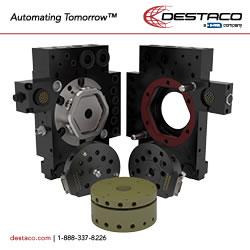 The Accelerate Collection is a range of products designed to help stamping press operators speed up their production lines with higher efficiencies. Working with our customers helped to bring innovative new products to the market, which in turn helps them produce more stamped parts per hour, while reducing moment forces and overall system wear and tear. Accelerate Collection products include Lightweight Tooling, Polyurethane Vacuum Cups, Sheet Metal Grippers, Plastic Proximity Switch Mounts, and new Digital Solutions.