Lucintel Report Indicates Increasing Security Threats and Border Control to Drive the UAV Industry Globally.
Irving, TX January 06, 2013

Increase in home land security systems, war against terrorism across the globe, and increasing demand for UAVs for security threats and safe countries are anticipated to drive the global UAV industry. The global UAV industry is expected to continue its robust growth momentum and reach approximately US $10.7 billion in 2017 with a CAGR of 8.0% over the next five years (2012-2017).
Lucintel, a leading global management consulting and market research firm, has analyzed the global UAV industry and presents its findings in "Global UAV Industry 2012-2017: Trend, Profit and Forecast Analysis."
The global UAV industry is highly consolidated and consists of all types of UAVs such as Mini, Tactical, MALE (Medium Altitude Long Endurance), HALE (High Altitude Long Endurance), and UCAV (Unmanned Combat Ariel Vehicle). A combination of factors such as high standards and technological requirements highly impacts market dynamics.
Lucintel's research indicates that in 2011, the industry witnessed a robust growth over 2010 due to the huge contribution made by the US and Europe. UAV spending across the globe received increased attention after the terrorist attack on the World Trade Center in 2001. The US Department of Defense drastically increased its funding for UAV programs after the attack.
APAC and ROW are forecast to see the highest growth over 2012-2017 due to increasing defense procurement budget in emerging economies and geopolitical instability in APAC and ROW countries. APAC is a small market presently, but the region depicts a good positive growth potential with the increase in budgets; companies from other regions are entering APAC's market through joint ventures.
This aerospace research report provides an overview of the Global UAV industry. The report tracks three market segments for four geographic regions: thus, it tracks 12 segments of the industry.
For a detailed table of contents and pricing information on these timely, insightful reports, contact Lucintel at +1-972-636-5056 or via email at helpdesk (at) lucintel (dot) com. Lucintel provides market research reports, strategic growth consulting and due diligence services to clients around the world.
Lucintel has started Live Chat in its Web Site to answer visitors' questions in real time with precision. Visitors can either chat with our experts or call them free of cost through Live Chat to get assistance about what they are looking for from Lucintel.
Featured Product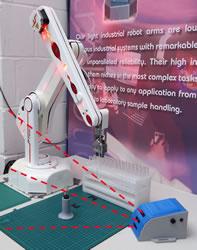 ST Robotics have decades of experience in industrial robots having sold hundreds of robots over the years. The company has 3 main models, R12, R17 and R19 all using a unique simple industrial technology that dramatically reduces costs resulting in the lowest priced industrial robots available. The same uncomplicated technology vastly improves reliability. ST backs this up with a 2 year warranty. Typical applications are routine testing, sample handling and also education. The software is a different paradigm from most robots. It is command based; you type a command and see immediate action. Programming is a building block approach, building confidence as you program in small 'mind-sized bytes'. ST offers free unlimited technical support.