Indefinite Delivery/Indefinite Quantity contract valued at up to $248 million supports small UAS requirements through December 2017----- Contract supports continued procurement and support of small unmanned aircraft systems for Army
MONROVIA, Calif.--AeroVironment, Inc. (NASDAQ: AVAV) announced that the United States Army has selected it and four other companies to compete for future small UAS requirements under a new Firm Fixed-Price Indefinite Delivery Indefinite Quantity (IDIQ) contract with a $248 million maximum value. The contract will enable the continued procurement of AeroVironment's RQ-11B Raven and RQ-20A Puma AE systems as well as competing medium- and long-range small unmanned aircraft systems.

"We have successfully competed for every major United States Department of Defense program of record involving small UAS and have delivered highly reliable systems with increasing capability to support our warfighters," said Roy Minson, AeroVironment senior vice president and general manager of its Unmanned Aircraft Systems business segment. "This new IDIQ contract provides for continued procurement of small UAS, reflecting the high value of this capability. We look forward to supporting the U.S. Army and other customers with market leading small UAS solutions that anticipate the ever-evolving needs of warfighters and address the budgetary constraints of governments."
AeroVironment Small UAS
RQ-11B Raven®, Wasp AE™, RQ-20A Puma™ and Shrike VTOL™ comprise AeroVironment's Family of Small Unmanned Aircraft Systems. Operating with a common ground control system (GCS), this Family of Systems provides increased capability to the warfighter that can give ground commanders the option of selecting the appropriate aircraft based on the type of mission to be performed. This increased capability has the potential to provide significant force protection and force multiplication benefits to small tactical units and security personnel. AeroVironment provides logistics services worldwide to ensure a consistently high level of operational readiness and provides mission services for customers requiring only the information its small UAS produce. AeroVironment has delivered thousands of new and replacement small unmanned air vehicles to customers within the United States and to more than 20 international governments.
The Qube™ small UAS is tailored to law enforcement, first response and other public safety missions. Small enough to fit easily in the trunk of a car, the Qube system can be unpacked, assembled and ready for flight in less than five minutes, giving the operator a rapidly deployable eye in the sky at a fraction of the cost of manned aircraft and large unmanned aircraft.
About AeroVironment
AeroVironment is a technology solutions provider that designs, develops, produces, supports and operates an advanced portfolio of Unmanned Aircraft Systems (UAS) and electric transportation solutions. Agencies of the U.S. Department of Defense and allied military services use the company's electric-powered, hand-launched unmanned aircraft systems extensively to provide situational awareness to tactical operating units through real-time, airborne reconnaissance, surveillance and communication. Multiple government agencies have helped to fund the development and demonstration of Global Observer®, a hybrid-electric, stratospheric UAS designed to provide affordable, persistent reconnaissance and communication over any location on the globe. Switchblade™ is a loitering munition designed to provide a rapid, lethal, pinpoint precision strike capability with minimal collateral damage. AeroVironment's electric transportation solutions include a comprehensive suite of electric vehicle (EV) charging systems, installation and network services for consumers, automakers, utilities and government agencies, power cycling and test systems for EV developers and industrial electric vehicle charging systems for commercial fleets. More information about AeroVironment is available at www.avinc.com.
Featured Product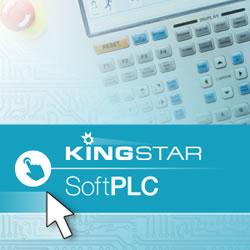 The top machine builders are switching from proprietary hardware-based PLCs, like Allen-Bradley, TwinCAT, Mitsubishi and KEYENCE, to open standards-based EtherCAT-enabled software PLCs on IPCs. KINGSTAR provides a fully-featured and integrated software PLC based on an open and accessible RTOS. KINGSTAR Soft PLC also includes add-on or third-party components for motion control and machine vision that are managed by a rich user interface for C++ programmers and non-developers alike.