Montreal, Canada - At Automate 2013 (January 21-24, Chicago, IL), Matrox Imaging will demonstrate new hardware and software for industrial imaging and machine vision, including Matrox Design Assistant 3.0, the latest release of its flowchart-based integrated development environment (IDE) for the Matrox Iris GT smart camera line.

Visit the Matrox Imaging booth (McCormick Place North, #933) and see:
*Multiple Matrox Iris GT smart cameras being monitored and controlled remotely from a single HMI application, which is included with Matrox Design Assistant smart camera software. Design Assistant 3.0 makes it even faster and easier for users to create their application's flowchart and HMI.
*High-speed surface inspection using a 16k-pixel, 100 kHz line rate, 4 links, CoaXPress line-scan camera interfaced to a Matrox Radient eV-CXP frame grabber board in a Matrox Supersight imaging computer. The Supersight supports multiple multi-core CPU / GPU-based compute nodes running the Matrox Imaging Library (MIL).
About Matrox Imaging
Established in 1976, Matrox Imaging is a leading developer of component-level solutions for machine vision, image analysis, medical imaging, and video surveillance. Products include frame grabbers, vision processors, imaging computers, industrial and smart cameras, and application development software. Headquartered in Montreal, Quebec, Canada, Matrox is a privately held company with offices in the United Kingdom, Ireland, Germany, and Hong Kong. For more company information, visit "About Matrox Imaging".
Featured Product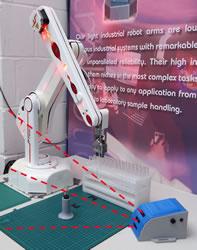 ST Robotics have decades of experience in industrial robots having sold hundreds of robots over the years. The company has 3 main models, R12, R17 and R19 all using a unique simple industrial technology that dramatically reduces costs resulting in the lowest priced industrial robots available. The same uncomplicated technology vastly improves reliability. ST backs this up with a 2 year warranty. Typical applications are routine testing, sample handling and also education. The software is a different paradigm from most robots. It is command based; you type a command and see immediate action. Programming is a building block approach, building confidence as you program in small 'mind-sized bytes'. ST offers free unlimited technical support.