North America's largest material handling show
Fairfield, OH - KC Robotics, a family owned industrial robotics integration and service company, will be exhibiting the new Agilus robotic system from KUKA at Automate 2013 in Booth #1112. The event, which runs in conjunction with ProMat, North America's largest material handling show, will be held in Chicago's McCormick Place January 21-24, 2013. Show hours are 10 a.m. - 5 p.m. with the show closing at 3 p.m. Thursday, January 24.

KC Robotics, located 20 minutes north of downtown Cincinnati, integrates, maintains, services, and repairs industrial robots for customers nationwide. Customer support staff and engineers will be on hand at Automate 2013 to discuss manufacturers' industrial automation needs, an industry that has seen a dramatic increase as a way to stay competitive with other countries in manufacturing.
As a long standing company with decades of experience, KC Robotics is able to provide its customers with an affordable, easy solution to industrial integration and the necessary maintenance needed throughout the life of the robotic system to ensure maximum potential with the minimal chance of downtime or other costly issues.
The KUKA Agilus line, unveiled by KUKA Robotics last year, was designed with efficiency and reliability in mind. With speeds unlike others in its class, the Agilus line is a perfect solution for pick and place applications, loading and unloading, and inserting. KC Robotics is a certified platinum integrator for KUKA Robotics.
Technicians are on hand 24/7 to combat any problems that may arise on the customer's production floor. From technical support over the phone to an on-site service call, KC Robotics is a proven leader in great customer service, affordable prices, and quality service and support. At Automate 2013, manufacturers will have the opportunity to receive 4 hours of on-site scheduled maintenance, free of charge.
To attend the show, passes to both Automate 2013 and ProMat are free; educational seminars held throughout the week are available for a fee. Go to www.automate2013.com. If you are interested in meeting with a KC Robotics customer support member or need to schedule on-site service, call (513) 860-4442 or email us.
Featured Product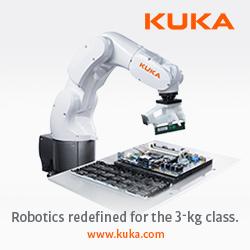 Great advances often start with small steps - in manufacturing cells measuring only 600 × 600 mm. Here, the KR 3 AGILUS is in its element. Particularly in the case of small parts and products which must be produced in a minimum of space. KUKA expertise, concentrated into the smallest of spaces, is setting new standards for the 3-kg class. The lightweight robot masters various tasks with agility, dynamism and maximum precision, leading to high flexibility in production - even when it comes to extremely narrow spaces.