Industry-Leading Two Million Life Cycle Rating, IP67 Environmental Sealing, and Wide Selection of Ports and Terminations Improve Equipment Uptime, Simplify Design, and Reduce Manufacturing Costs
MINNEAPOLIS, Jan. 18, 2013 - Honeywell (NYSE:HON) introduced today its Pressure Switches, High Pressure Premium, HPS Series, the only pressure switches available in the industry with a two million life cycle rating, IP67 environmental sealing, and multiple port and termination options that improve equipment uptime, simplify rapid design and assembly, and reduce total production costs for Honeywell's OEM customers. The HPS Series are durable, reliable electromechanical gauge pressure on/off switches that are available with either single pole single throw (SPST) normally open or normally closed circuitry, or single pole double throw (SPDT) circuitry. They are designed for use in rugged transportation and industrial applications that require the making or breaking of an electrical connection in response to a pressure change of the system media., configurable pressure switch

"The High Pressure Premium is the first in a new portfolio of configurable pressure switches that are designed utilizing a building block approach that enables easy, rapid assembly," said Wade Tollison, senior global product marketing manager for Honeywell Sensing and Control. "This method allows Honeywell to quickly provide sample and production units to our customers, meet our customers' design requirements without incremental tooling charges, reduce our customers' production costs, and reduce design and implementation costs of our customers' end product. Additionally, the HPS Series' reliability and durability allow our customers to increase productivity while reducing field failures and service costs."
Honeywell's Pressure Switches, High Pressure Premium offer several features that make them well-suited for use in rugged industrial and transportation applications, including:
· Wide pressure switching point range of 150 psi to 4500 psi [10.34 bar to 310.26 bar]
· Outstanding proof pressure rating of 10000 psi [689.48 bar] and burst pressure rating of 20000 psi [1378.95 bar] reduce field failures
· Industry-leading IP67 sealing rating ensures media ingress will not create switch failure-useful in applications where the switch is splashed with fluid or is temporarily immersed, enhancing reliability and durability
· Compatibility with a variety of media including petroleum-based hydraulic fluids (engine oil, gasoline, diesel, transmission fluid, etc.), pressurized air, water, mineral oil-based brake fluid, and more enhance durability in tough environments
· A wide selection of terminations including spade terminals, screw terminals, Deutsch DT04-3P, AMP Superseal 1.5, cable, cable with Deutsch DT04-3P, cable with AMP Superseal 1.5, cable with Packard Metripak 150, cable with DIN 4365D-C, cable with M12 x 1, and 150 mm cable with Packard weatherpack male terminal, as well as numerous port types including 1/2-20 UNF, M14 x 1.5, 9/16-18 UNF, and 3/4-16 UNF allow customers the ability to configure the switch to meet their application needs
· An operating temperature range of -40 °C to 120 °C [-40 °F to 248 °F] allows for use in a variety of environments
Potential transportation applications include heavy duty construction machinery, agricultural machinery, and material handling machinery. Potential industrial applications include CNC machines, compressors, boilers, fracking equipment, mud pumps, presses, punches, pressure washers, trash compactors, water jet cutting machines, and any machinery that use high pressure hydraulic fluids.
The HPS Series switches feature a switching point accuracy of up to ±2%, providing efficient operation of equipment. Their switching capability of 5 mA to 5 A allows for potential use in a wide range of applications, from heavy loads to those connected to an electronic control unit. Additionally, Honeywell's global presence offers customers immediate product and application support throughout the development cycle, from design to global manufacturing.
Get more information on this product - http://sensing.honeywell.com/pressure%20switch%20high%20pressure%20premium%20-%20hps%20series%20150%20psi%20to%204500%20psi
Download the high-resolution image - http://sensing.honeywell.com/multimedia/S_C_Website/pressreleases/photos/2013/Honeywell_High-Pressure_Premium_HPS-Series_Switch_highres.jpg
Learn more about Honeywell Sensing and Control - http://sensing.honeywell.com/
Honeywell International is a Fortune 100 diversified technology and manufacturing leader, serving customers worldwide with aerospace products and services; control technologies for buildings, homes and industry; automotive products; turbochargers; and specialty materials. Based in Morris Township, N.J., Honeywell's shares are traded on the New York, London, and Chicago Stock Exchanges.
Featured Product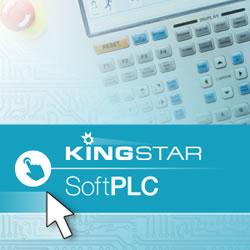 The top machine builders are switching from proprietary hardware-based PLCs, like Allen-Bradley, TwinCAT, Mitsubishi and KEYENCE, to open standards-based EtherCAT-enabled software PLCs on IPCs. KINGSTAR provides a fully-featured and integrated software PLC based on an open and accessible RTOS. KINGSTAR Soft PLC also includes add-on or third-party components for motion control and machine vision that are managed by a rich user interface for C++ programmers and non-developers alike.