Brings new possibilities to the machine vision market
The machine vision software HALCON was ported by MVTec for cameras from

Vision Components (VC). From now on, HALCON Embedded runs on VC smart
cameras and brings new possibilities to the machine vision market.
HALCON is the comprehensive standard software with IDE for machine vision
and is used worldwide in many industries. HALCONs flexible software
architecture enables fast application development to solve the demands of
industrial and medical imaging.
For optimal integration to the VC smart camera series, MVTec ported the
complete HALCON 11 software library. The development of the application can
be done conveniently on a standard PC. After uploading, the machine vision
application runs on the smart camera and is able to use HALCONs entire
machine vision functionality.
Smart cameras are widely used for quality and process control in industrial
manufacturing lines. Smart cameras from VC provide sufficient computing
power and direct communication interfaces. The combination of robust
hardware from VC and the general-purpose and reliable HALCON software from
MVTec provides a powerful allaround package for modern machine vision.
About HALCON Embedded
HALCON Embedded means HALCON running on a special platform. HALCON is
portable to various microprocessors/DSPs, operating systems, and compilers.
HALCON Embedded lets software developers exploit the power of the
comprehensive machine vision library HALCON by MVTec on embedded systems.
HALCON Embedded enables the development of the software part of a machine
vision application on a standard platform and thereby greatly eases the
programming of an embedded system. Simply stated: Development is done on a
PC, while the application runs on an embedded system.
More info: www.halcon-embedded.com
Featured Product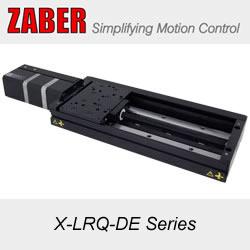 Zaber's new and improved stage (X-BLQ-E) is a closed-loop, belt-driven motorized linear stage with built-in motor encoder and controller. With travel lengths up to 3 m, 10 µm repeatability, and a maximum speed of 2.0 m/s, X-BLQ-E stages are perfect for rapid positioning over large distances. A built-in motor encoder allows closed-loop operation and slip/stall recovery, and an optional indexed knob provides manual control for operation without a computer. Like all Zaber products, the X-BLQ-E Series is designed for easy set-up and operation.