Tousley a leading expert in unmanned systems, advanced sensors, and tactical missiles
February 06, 2013

Many things drive scientists and technologists from across multiple disciplines to join DARPA as program managers and technical office directors. The most common theme, however, is service to country. At DARPA, these visionaries are charged with creating and preventing technological surprise in support of U.S. national security. For Bradford Tousley, a former DARPA program manager who recently returned to DARPA to assume leadership of the Tactical Technology Office (TTO), service to country spans generations.
"It's exciting for me to return to DARPA," explained Tousley, a leading expert on unmanned systems, advanced sensors and tactical missiles. "I grew up in a military family-my father served in the Army, and I followed in his footsteps as an Army officer myself."
That is not an uncommon story.
Unique to Tousley, though, is a connection to DARPA that stretches the history of the Agency. Tousley's father, a one-time military aide-de-camp to the commander of the Army Ballistic Missile Agency (ABMA), was part of one of the first projects funded by then-ARPA more than 50 years ago. The ABMA oversaw the launch of the Explorer space program-a direct response in the Cold War to the Soviet launch of Sputnik-sending satellites into space for varied missions. Interestingly, Tousley's father was able to share his former connection to his son's place of work only after details of the program were declassified in 1998.
From 1997 to 2006, Tousley served as a senior scientist and program manager at DARPA, creating and managing efforts in unmanned systems, tactical missiles, radar systems, and advanced electro-optical and infrared sensor systems. Immediately prior to his recent return to DARPA, he was director of the technology division of Logos Technologies, where he oversaw technology development and business operations in unmanned airborne persistent surveillance technology, hyperspectral imaging science, space situational awareness and sensors, Unmanned Aerial Vehicles collision avoidance, software development and advanced image-processing algorithms.
"We are excited to have Brad back at DARPA," said DARPA Director, Arati Prabhakar. "Throughout his career, he has spearheaded the development of complex systems in support of national security. Brad understands DARPA's approach to pushing technology forward and brings great insights for the creation of new capabilities for the future."
As head of TTO, Tousley will oversee the office within DARPA charged with development of rapid, mobile and responsive combat capabilities for advanced weapons, platforms and space systems.
"It is gratifying to know that the research and development we undertake at DARPA can set the pace for innovation in our fields," said Tousley. "That is why I wanted to return; it's an opportunity shape the future of technology while contributing to saving Warfighters' lives and helping ensure mission success for DoD."
Featured Product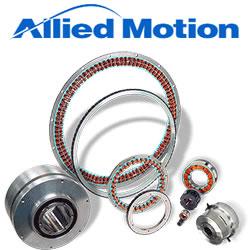 Allied Motion's Megaflux MFH170i series of 170 mm (6.7 in) diameter housed brushless torque motors consists of a high performance brushless DC torque motor, a digital servo drive, and an optical encoder, all integrated into a rugged machined aluminum housing with robust duplex bearings. The MFH0170i series features a 63.5 mm (2.5 in) large-bore through shaft, and is characterized by a very high torque-to-inertia ratio. There are three stack lengths in the series with peak torque ranging from 8.5 up to 16.9 Nm (75 up to 150 lb-in). The standard winding voltage is 48 V. And to ease the hassle of long leadtimes for prototypes, the new MFH170i is now available through our QuickShip program.