QuickTrak is a modular kit-based platform of linear guide components and sub-assemblies that can be quickly installed on finished products and production equipment with ease.
Bishop-Wisecarver announced today the launch of its QuickTrak line, a family of modular linear guide components and sub-assemblies that help manufacturers and automation solution providers assemble machines with motion guidance systems faster and easier. The T-nut and T-slot based kit of parts reduces downtime and total cost of ownership by allowing the user to build a linear guide system from modular, cut-to-length and easy-to-assemble parts.

"QuickTrak benefits any machine builder who wants to quickly add a customized linear guidance system into their application with as little assembly and machining effort as possible," said Bishop-Wisecarver Mechanical Design Engineer Leslie Lui. "QuickTrak is unlike most linear guide products which require highly customized, precision-machined components and mounting features for application integration."
Available as a kit of parts or fully assembled, QuickTrak simplifies the design process and offers fast alignment. The product comes in two sizes and two configurations which can be used much like an industrial-grade erector set, explained Bishop-Wisecarver Vice President of Engineering Ali Jabbari.
"The track support sub-assemblies in QuickTrak were designed to reduce the number of hardware pieces required for fastening track to mounting substrates," said Jabbari. "Holes do not need to be drilled in the track because of our patent-pending aluminum wedge design which is used to secure the steel vee-edge track."
QuickTrak wheel plates are also fast to install and customize without additional machining, consisting of wheel mounting kits assembled in T-slots on extruded aluminum wheel plates. Wheel mounting kits consist of DualVee® guide wheels, bushings, wheel covers and T-slot mounting fasteners. Wheel plates are simply cut to specified span widths, from just the minimum required to mount wheel kits to any particular width required in a customer's application.
"Our customers asked for a linear guide they could install quickly and easily to new and existing machines," said Bishop-Wisecarver President, Pamela Kan. "We listened and thus created QuickTrak to meet this need."
QuickTrak's adaptability and ease of assembly lends itself especially well to any machine with T-slot extrusions. QuickTrak is an ideal choice to retrofit such systems and can save money by eschewing the need to develop an entirely new machine in order to add motion guidance features.
"It can immediately help customers who already use aluminum extrusions or similar beams in their machines," explained Bishop-Wisecarver Vice President of Sales Mike McVeigh, adding that QuickTrak works for virtually any industry, including metalworking, robotics, transportation, industrial machinery, architecture, consumer products, controls as well as general and lab automation, to name some. DIY enthusiasts and hobbyists could find countless uses for the guides, too.
QuickTrak is backed by an engineering team focused on helping customers select the right configurations for their application needs. Once specified, QuickTrak can ship in less than a week from receipt of order.
For more information on QuickTrak, visit www.bwc.com.
Featured Product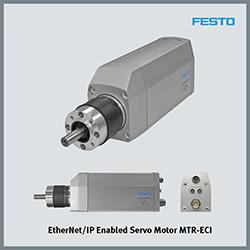 Mechatronic Motion Solutions from Festo is a unique system of components, modules, and software. It integrates all types of pneumatic, servopneumatic and (electro)mechanical automation motion and combines them according to your task. Irrespective of the control system environment you use, Mechatronic Motion Solutions always provides the appropriate interfaces. The fingers can be actively moved and their strength amplified; the operator's hand movements are registered and transmitted to the robotic hand in real time. The objectives are to enhance the strength and endurance of the human hand, to extend humans' scope of action and to secure them an independent lifestyle even at an advanced age.