Applied Robotics' Sigma NextGen™ is the latest in the Established line of Sigma Tool Changers, Designed to keep Pace with Industry Demands.
Glenville, New York - March 8 , 2013 - Applied Robotics Inc., a leading global manufacturer of robotic end-ofarm

tooling and connectivity solutions, today announced the introduction of its new tool changer in the Sigma line,
the Sigma NextGen™, designed to keep pace with the development of higher dynamic robots and the need to
address an increased payload range, up to 1500kg with the Sigma NextGen™ 200 (6) . The Sigma NextGen™
has driver/cam geometry to provide increased moment and acceleration capabilities to handle today's high
dynamic robots. This design ensures robust coupling under the most extreme load conditions, and the tool
changer maintains safety with a coupled mechanism during loss of compressed air.
The Sigma NextGen™, as well as the entire Sigma line, supports a wide variety of servo tools and bus
communications including the new Sigma SmartComm™ Communications Module which features Diagnostics via
a webpage and the ability to schedule maintenance and run various reports. The SmartComm™ is also released
today (March 8 , 2013 - please see additional release).
A common profile in the entire Sigma Line of Tool Changers provides modularity and allows for interchangeability
of utility modules, further increasing efficiency and flexibility. Later on this year, expect to see more additions to
the Sigma line in NextGen™ versions, able to handle even larger payloads, easily accommodating a variety of
industries and applications.
"Our customers' changing requirements were our highest priority in the design process for the Sigma NextGen™,"
said Cliff Annis, Vice president of Applied Robotics Inc. "The Sigma NextGen™ is poised to meet and exceed any
application challenges."
Applied Robotics Inc., headquartered in Glenville, N.Y., is an ISO-9001 registered, employee-owned company
serving the world's automation market. Founded in 1983, Applied Robotics designs and manufactures end-or-arm
tooling and connectivity solutions intended to solve complex automation problems and improve efficiencies.
Serving a wide spectrum of customers and industries ranging from large Fortune 500 companies to small
privately-held businesses, the company's wrist-down solutions can be found in manufacturing, welding, assembly,
material removal and material handling applications throughout the United States, Canada, Pacific Rim, Mexico,
South America, Australia and Europe, via Applied Robotics, Europe. More information can be found on the
company's website at www.arobotics.com.
Featured Product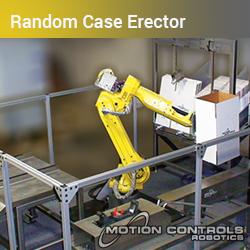 Random Case Erectors are ideal for fulfillment centers and other end-of-line packaging needs. Save money by eliminating changeover downtime. Reduce ergonomic injuries by eliminating repetitive manual tasks. The Random Robotic Case Erector System includes: • FANUC M20iA/20 Robot • Combi gravity case magazine - holds 2 box sizes • Combi bottom flap folder with integrated 3M case sealing head. • Fixed robot base, anchored to the floor • Flexible end of arm tool to pick and erect multiple case sizes to eliminate changeover downtime • System wiring and controls • Color 7.5" touchscreen HMI display for selecting case size • Perimeter guarding with safety interlocks on doors • Programming for Robot, PLC/PMC, HMI and Vision • Complete documentation in electronic format • On-site training and support • Compliance with all applicable robotic safety standards. Alternate safety configuration may be available to allow an operator to changeover a case size in one magazine while the robot continues to work in other magazines. Contact Motion Controls Robotics to learn more about how to implement this system into your current end-of-line operations.