Avionics innovator Sagetech Corporation today announced that it has been awarded certifications for both AS9100C and ISO 9001:2008 standards. These certifications signify Sagetech's successful compliance with recognized quality management systems, including the rigorous AS9100C aerospace quality standard.
Hood River, OR March 15, 2013

"This is a key milestone for Sagetech," remarked Sagetech President Kelvin Scribner. "Both Sagetech and the unmanned aircraft industry are growing and maturing, transitioning to more formal systems that employ widely recognized standards like AS9100. Sagetech is also expanding to apply competencies developed for the unmanned aircraft arena to manned aviation, most notably ultra-miniaturization of avionics. AS9100 is the gold standard for the manned aviation marketplace, and through conformance we are keeping pace with unmanned aviation in its transition from military-only to broader civil applications and standards."
AS9100C, in particular, is a highly regarded quality standard specific to the aerospace industry. The certification confirms that Sagetech Corp. "has established and applied a quality system for the design and manufacture of composite and electromechanical assemblies for aerospace and military applications."
AS9100 was developed by the Society of Automotive Engineers in 1999. Aerospace industries worldwide often require compliance with AS9100 as a condition of doing business. While many companies apply first for the ISO certification before seeking the more stringent AS9100C certification, Sagetech chose to pursue both milestones simultaneously. Certification required more than 96 hours of audits of Sagetech operations by TUV USA, an independent auditing firm.
"The entire Sagetech team, led by Quality Manager Jake MacFarlane, made this happen," noted Scribner. "We decided to go straight for AS9100 because it's key to our entry into the manned avionics marketplace. The stakes were higher, but I knew Jake and the team were up to the challenge. With this victory under our belt, we will continue our mission to disrupt the manned avionics marketplace with smaller, more capable avionics in the same way we defined what 'small avionics' means for drones."
About Sagetech Corporation
Sagetech Corporation has been a disruptive innovator in miniature avionics since 1998. Their tiny aviation transponders transformed how small unmanned aircraft are employed, making them visible to ATC radar and facilitating small drone operations in Iraq and Afghanistan. Sagetech's Clarity ADS-B receivers provide unprecedented integration for the general aviation marketplace. Founded in 1998, Sagetech operates out of four facilities in Hood River, Oregon and White Salmon, Washington. More information is available at http://www.SagetechCorp.com
Featured Product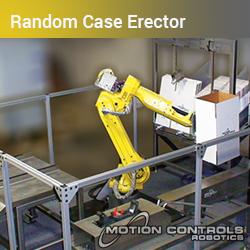 Random Case Erectors are ideal for fulfillment centers and other end-of-line packaging needs. Save money by eliminating changeover downtime. Reduce ergonomic injuries by eliminating repetitive manual tasks. The Random Robotic Case Erector System includes: • FANUC M20iA/20 Robot • Combi gravity case magazine - holds 2 box sizes • Combi bottom flap folder with integrated 3M case sealing head. • Fixed robot base, anchored to the floor • Flexible end of arm tool to pick and erect multiple case sizes to eliminate changeover downtime • System wiring and controls • Color 7.5" touchscreen HMI display for selecting case size • Perimeter guarding with safety interlocks on doors • Programming for Robot, PLC/PMC, HMI and Vision • Complete documentation in electronic format • On-site training and support • Compliance with all applicable robotic safety standards. Alternate safety configuration may be available to allow an operator to changeover a case size in one magazine while the robot continues to work in other magazines. Contact Motion Controls Robotics to learn more about how to implement this system into your current end-of-line operations.