Compact Modular Design Frees up Space, Reduces Installation Time and Saves Money
GREENVILLE, Wisconsin- March 21, 2013, QComp Technologies, Inc., a leading robotics integrator, today announced the company's latest addition to its comprehensive line of palletizers. The QComp 5G Palletizer features a durable, robust robot that boasts a picking rate of up to 20 picks per minute. Its compact modular design frees up valuable floor space, reduces installation times and saves customers money.

"The new 5G palletizer allows customers to stack bags, cases or trays at any point in their production line eliminating long and costly conveyor runs to specialized palletizing areas," said Tom Doyle, president of QComp Technologies, Inc. "This advantage and the system's modular design make this a very attractive solution for manufacturer's looking for a fast project return on investment."
The 5G Palletizer's robot is capable of handling loads of over 100 pounds and the system can accommodate pallets up to 109 inches in height. The system is pre-assembled for a quick startup saving time and money on installation expenses. QComp's innovative vacuum tool offers instantaneous tool changing capability making it a flexible and versatile solution.
Founded in 1990, QComp Technologies, Inc. is a robotics integrator, providing automation solutions for a variety of industries. The company designs and builds automated robotic manufacturing cells and materials handling systems, as well as engineers and manufactures drive systems for paper, metal and converting industries. With headquarters in Greenville Wisconsin QComp has sales and service offices in Wausau and Milwaukee, WI.
Featured Product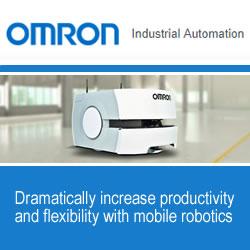 The Omron Adept Lynx Cart Transporter is an Autonomous Intelligent Vehicle (AIV) designed to attach to movable carts and transport them from a pickup location to a drop off location. Applications include line-side inventory replenishment, moving flow racks, transporting Work in Progress (WIP) between process steps, and moving finished goods to the warehouse. The Lynx Cart transporter leverages Natural Feature Navigation to autonomously find a path through the facility without the need for any facility modifications necessary.