User-friendly with a wealth of company and product information
ATI Industrial Automation, a world-leading, engineering-based developer of robotic peripheral equipment, including Automatic Tool Changers, Multi-Axis Force/Torque Sensing Systems, Utility Couplers, Robotic Deburring Tools, Robotic Collision Sensors, and Compliance Devices, launches their new website that provides streamlined navigation and an updated look. The website is user-friendly and provides a fresh way to navigate and access a wealth of company and product information.

Website features include: Links to product specifications, 2D and 3D images, application and product videos, along with ATI news articles and stories that affect the robotics industry. Viewers will be able to quickly and efficiently access information regarding their robotic end-effector needs.
ATI's robot end-effector products are found in thousands of successful applications around the world. ATI's flagship product is the Robotic Tool Changer, a robotic wrist coupler that locks and unlocks automatically, allowing a single robot to perform many different tasks. ATI remains focused on developing cost-effective, state-of-the-art products and solutions that improve robotic productivity. Customers choose ATI products for their unmatched quality, reliability, precision, and strength.
For additional information about ATI products visit the website now www.ati-ia.com or contact ATI Industrial Automation, 1031 Goodworth Drive, Apex, NC 27539, phone 919-772-0115, fax 919-772-8259.
Featured Product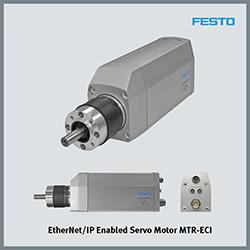 Mechatronic Motion Solutions from Festo is a unique system of components, modules, and software. It integrates all types of pneumatic, servopneumatic and (electro)mechanical automation motion and combines them according to your task. Irrespective of the control system environment you use, Mechatronic Motion Solutions always provides the appropriate interfaces. The fingers can be actively moved and their strength amplified; the operator's hand movements are registered and transmitted to the robotic hand in real time. The objectives are to enhance the strength and endurance of the human hand, to extend humans' scope of action and to secure them an independent lifestyle even at an advanced age.