The growth of agriculture, coupled with a reduction in manpower, makes the use of technology more attractive.
Members of the farming industry are beginning to see the potential of using robotics technology to save money and improve efficiency, said speakers at the AUVSI Atlanta Chapter's Conference on Unmanned Systems in Agriculture.

Industry officials have been expecting an unmanned systems boom for two decades, said Eric Corban of Guided Systems. Now, however, the technology has improved and "there is a nice selection of vehicles and a nice selection of automated technologies," he said. "I believe the time is now, and we need to all join together and redouble our efforts to solve the regulatory problems and bring this vision that's been around a long time to a reality."
Young Kim, general manager of precision agriculture for BOSH, agreed that there is a convergence of technology and market conditions.
Precision agriculture could serve as the "anchor tenant" for the commercial use of unmanned aircraft, he said, which would then help it spread to other areas.
He said he would like to see commercial growers and academia band together to fly unmanned systems over remote farmland and then share that data with the Federal Aviation Administration.
John Beasley of the University of Georgia said unmanned aircraft could aid in finding problems with crops before they become obvious, by which time it is sometimes too late.
"With UAV technology, I feel certain we can get in there and pick those [problem areas] up," he said.
The growth of agriculture, coupled with a reduction in manpower, makes the use of technology more attractive, he said.
As an example, he said that in 1986, about 14,500 active peanut producers planted 675,000 acres. In 2012, about 4,500 active producers planted 735,000 acres.
"Most of today's producers are strung out with too much acreage and too little time," he said.
The conference included flight displays outside, flown under a certificate of authorization from the FAA. The displays included a Microdrone quadrotor flown by Georgia Tech Research Institute and a Mako HyMav tethered aerostat flown by ElleVision, which markets it.
The Mako is one of several air vehicle services the company offers, said Richard Holloman, founder of the company, but farmers actually aren't interested in the platforms, just the information they can provide.
"It's about the deliverables. ... They don't care how we do it," he said.
Gary McMurray, of the Food Processing Technology Division at Georgia Tech Research Institute, agreed, saying, "The farmers don't want data. They want information. They want action."
Featured Product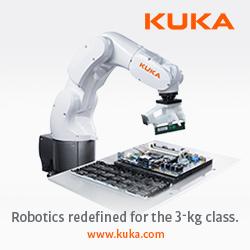 Great advances often start with small steps - in manufacturing cells measuring only 600 × 600 mm. Here, the KR 3 AGILUS is in its element. Particularly in the case of small parts and products which must be produced in a minimum of space. KUKA expertise, concentrated into the smallest of spaces, is setting new standards for the 3-kg class. The lightweight robot masters various tasks with agility, dynamism and maximum precision, leading to high flexibility in production - even when it comes to extremely narrow spaces.