A tease video of Robotmaster V6.
The release of Robotmaster V6 is imminent. We are excited to introduce RISE- The new ROBOTMASTER INTERACTIVE SIMULATION ENVIRONMENT. Simplified, interactive and high in performance, RISE provides a unique integration of user control, speed and flexibility to Robotmaster's renowned automation and optimization tools. This new intuitive interface elevates Robotmaster to an unprecedented standard of user experience.

View the video at: http://www.youtube.com/watch?v=1W_6sSHy-JA
Featured Product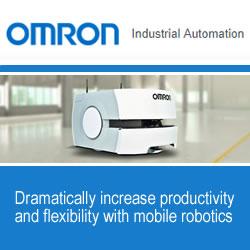 The Omron Adept Lynx Cart Transporter is an Autonomous Intelligent Vehicle (AIV) designed to attach to movable carts and transport them from a pickup location to a drop off location. Applications include line-side inventory replenishment, moving flow racks, transporting Work in Progress (WIP) between process steps, and moving finished goods to the warehouse. The Lynx Cart transporter leverages Natural Feature Navigation to autonomously find a path through the facility without the need for any facility modifications necessary.