Reston, Va.- QinetiQ North America will display its innovative Survivability and Unmanned Systems solutions at the 2013 Army Aviation Association of America (AAAA) Annual Professional Forum and Exposition in Fort Worth, TX.

Featured displays will include LAST® aircraft armor, composite armor, transparent armor, the Tactical Robotic Controller™, and Dragon Runner™ unmannned vehicles.
What: AAAA Exposition
When: April 10-13, 2013
Where: QinetiQ North America Booth #603
Fort Worth Convention Center
1201 Houston Street
Fort Worth, TX 76102
QinetiQ North America is a world leader in technology solutions that save lives in defense, security and commercial environments. For more information, please see our website www.qinetiq-na.com and read our blog at techblog.qinetiq-na.com.
About QinetiQ North America
QinetiQ North America (QNA) is a subsidiary of QinetiQ Group plc, the FTSE250 company listed on the London Stock Exchange (LSE:QQ.L). Operating in North America, QNA delivers world-class technology, responsive services, and innovative solutions for global markets, focusing on US government and commercial customers. Its engineers, scientists and other professionals deliver high quality products and services that leverage detailed mission knowledge and proven, reliable tools and methodologies to meet the rapidly changing demands of national defense, homeland security and information assurance customers. QNA is headquartered in McLean, Virginia. For more information visit www.qinetiq-na.com.
Featured Product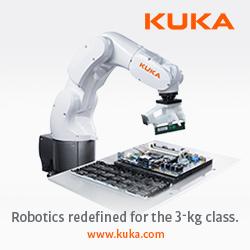 Great advances often start with small steps - in manufacturing cells measuring only 600 × 600 mm. Here, the KR 3 AGILUS is in its element. Particularly in the case of small parts and products which must be produced in a minimum of space. KUKA expertise, concentrated into the smallest of spaces, is setting new standards for the 3-kg class. The lightweight robot masters various tasks with agility, dynamism and maximum precision, leading to high flexibility in production - even when it comes to extremely narrow spaces.