The Wave Glider SV3 incorporates the latest advancements in energy harvesting technology providing the ability to utilize both wave and solar energy for forward propulsion.
Sunnyvale, CA - April 8, 2013

Liquid Robotics today announced the introduction of the Wave Glider® SV3, the world's first hybrid wave and solar propelled unmanned ocean robot. The Wave Glider SV3 incorporates the latest advancements in energy harvesting technology providing the ability to utilize both wave and solar energy for forward propulsion. These innovative propulsion and energy systems will help customers explore portions of the world's oceans in conditions that previously were too challenging or costly to operate. Customers will now have the ability to conduct missions, 24x7, through all weather conditions, across most of the planet to help solve some of the world's critical problems such as global climate change, ocean acidification, fisheries management, hurricane prediction, tsunami warning and exploration for valuable natural resources. The end-to-end ocean data solution provided by Liquid Robotics' new integrated platform provides ocean data collection and processing at the point of collection with real time delivery of critical information to shore. The Wave Glider SV3 can tap into the inexhaustible supply of the planet's wave and solar energy, travel tens of thousands of miles, collect data in the most demanding sea states/conditions (doldrums, high currents, hurricanes/cyclones) and deliver this data in real-time to users around the globe. This capability provides access to new levels of ocean data, more pervasively and more cost effectively than from existing alternatives.
"The SV3 is a tremendous step forward in terms of what we can accomplish in the ocean and gives customers a competitive advantage to capture data in the most challenging ocean conditions," said Bill Vass, CEO, Liquid Robotics. "By providing the ability to deploy Wave Gliders across most of the planet and deliver ocean data in a new and cost-effective way, we're enabling broad access to affordable ocean exploration."
The Wave Glider SV3 leverages the basic design principle of the highly successful Wave Glider SV2 platform, which was introduced in 2009, and has since traveled more than 300,000 nautical miles globally, set a world record for longest distance traveled by an autonomous vehicle (land or sea), and has been deployed on hundreds of customer missions ranging from the Arctic to Australia, and from the Canary Islands to Loch Ness.
Additional technological advancements introduced in the Wave Glider SV3 are datacenter@sea, adaptable power and storage providing support for power hungry sensors and the introduction of a new, adaptable operating system designed for intelligent autonomy for fleet operations.
"The SV3 enables unparalleled, pervasive collection of data and processing of data," said Roger Hine, CTO and inventor of the Wave Glider. "Riding the advancements in consumer electronics, smart phone, tablet computing and a new generation of extremely capable processors, we are now able to provide processing onboard - actually as powerful as a supercomputer from not long ago. With that computational power and the ability to tirelessly swim across vast oceans, the Wave Glider SV3 represents a big step forward in the state-of-the-art of unmanned monitoring and exploration."
The Wave Glider SV Series: SV2 and SV3
The Wave Glider SV Series represents the next generation of Wave Glider technology and includes the Wave Glider SV2 with a compatible growth path to the high-end Wave Glider SV3. Customers now can choose the Wave Glider that best fits their mission and budgetary requirements, or mix and match for complex operations.
The Wave Glider SV Series is available for sale today with deliveries of the Wave Glider SV3 beginning in Q3 of 2013. For a limited time, Liquid Robotics is offering a Wave Glider SV3 sales incentive program as well as a Wave Glider buyback program. For more information on both these opportunities, please contact sales@liquidr.com.
SV3: Hybrid Propulsion. Adaptable Power. Datacenter@sea.
*Hybrid Propulsion System: Wave-powered and solar energy storage with an auxiliary, vectored thruster for extra speed to address high currents, doldrums or to quickly accommodate changes in mission operations.
*Adaptable Modular Power System: Large, flexible power system design able to accommodate the most "power hungry" payloads (e.g., sonar, bathymetry, image analysis) and multiple sensors. Allows generation of power from other sources (i.e. wave to electricity generators, fuel cells).
*Modular Architecture: Provides maximum flexibility, ease of integration for fast deployment: pre-integrated for plug-and-play and reconfiguration.
*Regulus: Advanced Vehicle Operating System for intelligent autonomy to enable coordinated fleet operations. Designed around an open, cloud-based architecture to provide high availability, scalability and secure multi-tenancy. Includes the ability to dynamically download software changes or new applications to reconfigure a mission at sea.
*datacenter@sea: Powerful on-board compute capabilities for local processing (at sea) with the ability to transmit just the answer instead of raw data or download a new application.
SV2: Enhanced durability. Expanded Payloads. Investment Protection.
Liquid Robotics also announced the Wave Glider SV2, the original Wave Glider, with enhancements for:
*Enhancements for durability and extended persistence
*Increased onboard processing power
*Expanded support for Wi-Fi & cellular communications
*Applications and sensors cross-compatible with SV3
*Increased power to support a broad array of sensor payloads
*Expanded application and mission support
About Liquid Robotics, Inc.
Liquid Robotics is an ocean data services provider and developer of the Wave Glider®, the world's first wave powered, autonomous marine robot designed to help address the biggest challenges the world faces, including global climate change, national security, hurricane and tsunami warning, and offshore energy and resource management. For more information, visit www.liquidr.com.
Liquid Robotics and Wave Glider are registered trademarks of Liquid Robotics, Inc., in the United States and other countries.
Featured Product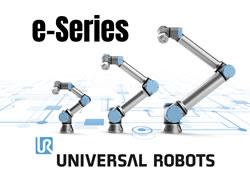 Universal Robots is a result of many years of intensive research in robotics. The product portfolio includes the UR5 and UR10 models that handle payloads of up to 11.3 lbs. and 22.6 lbs. respectively. The six-axis robot arms weigh as little as 40 lbs. with reach capabilities of up to 51 inches. Repeatability of +/- .004" allows quick precision handling of even microscopically small parts. After initial risk assessment, the collaborative Universal Robots can operate alongside human operators without cumbersome and expensive safety guarding. This makes it simple and easy to move the light-weight robot around the production, addressing the needs of agile manufacturing even within small- and medium sized companies regarding automation as costly and complex. If the robots come into contact with an employee, the built-in force control limits the forces at contact, adhering to the current safety requirements on force and torque limitations. Intuitively programmed by non-technical users, the robot arms go from box to operation in less than an hour, and typically pay for themselves within 195 days. Since the first UR robot entered the market in 2009, the company has seen substantial growth with the robotic arms now being sold in more than 50 countries worldwide.