SCHUNK now offers individually adaptable finger blanks made of aluminum or steel that are equipped with a quick-change system as a standard feature.
SCHUNK
, the competence leader for clamping technology and gripping systems, has transferred its extensive experience with quick-change systems to the design of gripper fingers. The innovative family-owned company introduces a new type of finger blank with a quick-change system already integrated as a standard feature. The quick-change fingers allow users to minimize setup times when changing over to a new parts spectrum, resulting in increased productivity and flexibility of the overall system. Compared with conventional jaw changing the new system reduces setup times by up to 90 percent. An easily accessible, form-fit locking mechanism ensures that the finger is changed in a matter of seconds, with perfect repeat accuracy, by turning an Allen key 90 degrees. As opposed to other common solutions that are available, bore holes extending through the entire finger are no longer necessary, giving users the added benefit of maximum freedom in the design of the finger contour. The fingers can be adapted over their entire length to the respective workpiece, without having to worry about jaw changing and the corresponding screw connections. The finger blanks featuring integrated quick-changing are available in aluminum (ABR-BSWS) or steel (SBR-BSWS). They can be used with all SCHUNK premium grippers and with numerous other gripper modules.
Featured Product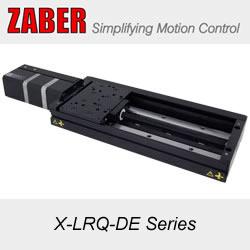 Zaber's new and improved stage (X-BLQ-E) is a closed-loop, belt-driven motorized linear stage with built-in motor encoder and controller. With travel lengths up to 3 m, 10 µm repeatability, and a maximum speed of 2.0 m/s, X-BLQ-E stages are perfect for rapid positioning over large distances. A built-in motor encoder allows closed-loop operation and slip/stall recovery, and an optional indexed knob provides manual control for operation without a computer. Like all Zaber products, the X-BLQ-E Series is designed for easy set-up and operation.