Fast and Flexible Automated System Packs the Newest Package Designs and Minimizes Labor-Intensive Picking and Packing Tasks
GREENVILLE, Wisconsin- April 16, 2013, QComp Technologies, Inc.,a leading robotics integrator, today announced the company's latest addition to its comprehensive line of packaging systems, the High Speed Pick & Pack robot. The High Speed Pick & Place robot packs cases in horizontal or vertical package configurations. This fast and flexible system is designed to minimize labor-intensive picking and packing tasks and handle the newest package designs such as stand up pouches.

"The High Speed Pick & Pack system was designed to provide manufacturers with the ultimate flexibility to accommodate multiple new packaging designs," said Tom Doyle, president of QComp Technologies, Inc. "The system will reduce production costs and increase packagers' bottom line and is ideal for case packing, tray filling, stand up pouches, bags, packs and more."
The High Speed Pick & Pack system features a delta style robot with integrated vision. Its scalable approach offers the flexibility for future expansion and because it is pre-engineered it additionally offers a fast project return on investment. The system is available with a six axis robot and stainless steel for wash down applications.
Founded in 1990, QComp Technologies, Inc. is a robotics integrator, providing automation solutions for a variety of industries. The company designs and builds automated robotic manufacturing cells and materials handling systems, as well as engineers and manufactures drive systems for paper, metal and converting industries. With headquarters in Greenville Wisconsin QComp has sales and service offices in Wausau and Milwaukee, WI.
Featured Product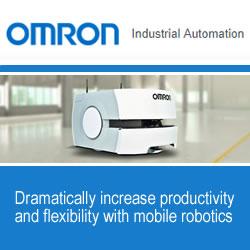 The Omron Adept Lynx Cart Transporter is an Autonomous Intelligent Vehicle (AIV) designed to attach to movable carts and transport them from a pickup location to a drop off location. Applications include line-side inventory replenishment, moving flow racks, transporting Work in Progress (WIP) between process steps, and moving finished goods to the warehouse. The Lynx Cart transporter leverages Natural Feature Navigation to autonomously find a path through the facility without the need for any facility modifications necessary.