Bishop-Wisecarver Group Continues Its Support as a Sponsor in an Effort to Spark High School Students' Interest in a Manufacturing Career
Pittsburg, CA -- March 13, 2013 -- The Bishop-Wisecarver Group (BWG), a WBENC certified woman-owned family of companies who work with manufacturers to engineer, produce, and build linear and rotary motion solutions, custom complex assemblies, and optimal embedded intelligence systems, has continued its dedication of supporting STEM initiatives with FIRST as a Diamond Supplier of this year's robotics competition.

BWG is also sponsoring three Northern California high school robotics teams, capturing the students' and mentors' experiences on their company blog and sharing through social media channels.
"The Bishop-Wisecarver Group is an avid supporter of technical education in grades K-12, and we are fortunate to be able to help FIRST teams throughout their journeys," said Pamela Kan, President of Bishop-Wisecarver Group.
The FIRST Robotics Competition is designed to engage hands-on learning, said Kan, which develops a student's preparedness for both higher education as well as future technical career opportunities.
"The FIRST Robotics Competition is an ideal venue for our ongoing focus on supporting Science, Technology, Engineering, and Math (STEM) initiatives."
The FIRST competition combines the excitement of sport with the rigors of science and technology for students across the globe every year. Under strict rules, limited resources, and tight deadlines, teams are tasked with raising funds, designing a team brand, developing a strategy, and building a robot to perform prescribed tasks against a field of competitors. Thousands of mentors and sponsors donate time, money, and resources to students.
With thousands of teams competing in the 2013 FIRST program, Bishop-Wisecarver Group is excited about rooting for their sponsored California-based teams: Fembots #692 from St. Francis High School, Robodogs #2085 from Vacaville High School, and Patriots #3470 from Heritage High School.
"I am looking forward to attending this year's event and meeting with teams from all over the world to hear their stories," said Brian Burke, Product Manager at Bishop-Wisecarver Group. "This program provides students with a real world experience in engineering that is invaluable. It's an honor to be a sponsor and resource to this growing program."
The organization's vision and mission according to Founder Dean Kamen is, "To transform our culture by creating a world where science and technology are celebrated and where young people dream of becoming science and technology leaders."
To learn more about the FIRST Robotics Competition, visit www.usfirst.org. For more information about Bishop-Wisecarver Group and its family of solutions, visit www.bwc.com. To follow company updates and competition coverage, follow us on Twitter at www.twitter.com/bwcnews.
Featured Product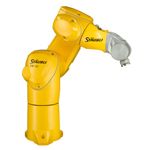 TX2 series of robots: the next generation of fast and precise 6-axis robots. This new robot range is redefining performance with the optimum balance of speed, rigidity, size and envelope. Those pioneer robots can be used in all areas, including sensitive and restrictive environments thanks to their unique features. Known worldwide for the quality of our design and innovation for more than a century, the Stäubli Group has brought its renowned engineering expertise and technological ingenuity to the forefront of robotics. Since 1982, we have built a highly regarded robotics business, and more significantly, transformed the way thousands of manufacturing operations perform. Today Stäubli Robotics is a leading player in robotics around the world, consistently delivering engineering as effective and reliable as our service and support.