Throughout his career, Rogers has held a variety of senior positions in management and as a scientist in the high-tech industry.
RESTON, Va. - April 25, 2013 - QinetiQ North America (QNA) today announced the appointment of Dr. Andrew Rogers as Executive Vice President and General Manager of the Technology Solutions (TS) business unit. In this role Rogers will have management responsibility for the TS portfolios, including survivability, unmanned systems, power management, sensors and control systems.

Prior to this appointment, Rogers served as the senior vice president for the survivability product line within TS. Rogers joined QNA with the acquisition of Planning Systems, Inc (PSI) in 2005. During his tenure with PSI, he served in a number of leadership positions culminating in his role as the director, integrated defense systems. Prior to PSI, Rogers was a senior scientist with the Woods Hole Group.
"Over the past eight years at QNA, Andy has consistently demonstrated the unique skills and talent that will be required to lead our Technology Solutions unit with keen vision and determination," said JD Crouch, Chief Executive Officer of QinetiQ North America. "His expertise in defense, security and commercial solutions will play a key role in supporting high technology R&D, as well as the rapid development of proven products to support defense, civilian government and commercial markets."
Throughout his career, Rogers has held a variety of senior positions in management and as a scientist in the high-tech industry. He has been instrumental in the development of several products currently offered within TS's survivability portfolio, and has published numerous papers in the field of applied physics with an emphasis on acoustics.
Rogers holds a PhD in applied marine physics from the University of Miami and is a graduate of the Harvard Business School and Massachusetts Institute of Technology Sloan executive program.
About QinetiQ North America
QinetiQ North America (QNA) is a subsidiary of QinetiQ Group plc, the FTSE250 company listed on the London Stock Exchange (LSE:QQ.L). Operating in North America, QNA delivers world-class technology, responsive services, and innovative solutions for global markets, focusing on U.S. government and commercial customers. Its engineers, scientists and other professionals deliver high quality products and services that leverage detailed mission knowledge and proven, reliable tools and methodologies to meet the rapidly changing demands of national defense, homeland security and information assurance customers. QNA is headquartered in McLean, Virginia. For more information visit www.qinetiq-na.com and join our conversation at www.facebook.com/qinetiqna.
Featured Product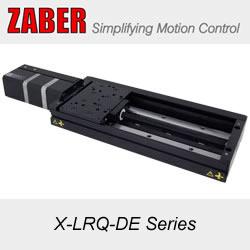 Zaber's new and improved stage (X-BLQ-E) is a closed-loop, belt-driven motorized linear stage with built-in motor encoder and controller. With travel lengths up to 3 m, 10 µm repeatability, and a maximum speed of 2.0 m/s, X-BLQ-E stages are perfect for rapid positioning over large distances. A built-in motor encoder allows closed-loop operation and slip/stall recovery, and an optional indexed knob provides manual control for operation without a computer. Like all Zaber products, the X-BLQ-E Series is designed for easy set-up and operation.