iRobot has delivered more than 5,000 robots to military and civil defense forces worldwide.
BEDFORD, Mass.--iRobot Corp. (NASDAQ: IRBT), a leader in delivering robotic technology-based solutions, has won contracts totaling $7.2 million from the Brazilian government to provide iRobot 510 PackBot robots, spares and associated equipment through December 2013.

"iRobot continues its international expansion, and Brazil represents an important market for the company's unmanned ground vehicles," said Frank Wilson, senior vice president and general manager of iRobot's Defense & Security business unit. "iRobot is excited to be providing the company's state-of-the-art robotic technologies to Brazil as the country prepares for several high profile international events, including the 2014 FIFA World Cup."
iRobot has delivered more than 5,000 robots to military and civil defense forces worldwide. The company's tactical mobile robots perform multiple missions for troops and public safety professionals, enhancing situational awareness, reducing risk and increasing mission success.
About iRobot Corp.
iRobot designs and builds robots that make a difference. The company's home robots help people with smarter ways to clean, and its defense & security robots protect those in harm's way. iRobot's consumer and military robots feature iRobot Aware® robot intelligence systems, proprietary technology incorporating advanced concepts in navigation, mobility, manipulation and artificial intelligence. For more information about iRobot, please visit www.irobot.com.
Featured Product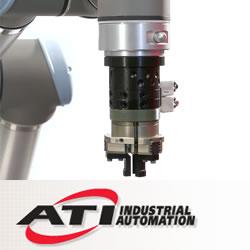 The ATI Robotic Tool Changer provides the flexibility to automatically change end-effectors or other peripheral tooling. These tool changers are designed to function reliably for millions of cycles at rated load while maintaining extremely high repeatability. For this reason, the ATI Tool Changer has become the number-one tool changer of choice around the world. ATI Tool Changer models cover a wide range of applications, from very small payloads to heavy payload applications requiring significantly large moment capacity.