Program geared to engineers, computer scientists currently working in the robotics field; first course to start in the fall of 2013
Worcester, Mass. May 21, 2013

Worcester Polytechnic Institute (WPI) today announced that it has launched an online, part-time master's program in Robotics Engineering, making it among the first colleges in the country to offer such a program.
The program will be primarily focused toward professionals such as engineers and computer scientists who are currently working in the field of robotics, according to Pamela Strombom Shelley, an associate director in WPI's Corporate and Professional Education office.
"These engineers and scientists are currently immersed in robotics and experience the hands-on robotics activities as part of their job right now," said Shelley. "This online course will give those workers even more education and a more sophisticated knowledge of robotics that will help them in their current positions and advance their careers."
The program seeks to impart students with a solid understanding of the fundamentals of computer science, electrical and computer engineering, mathematics, and mechanical engineering that make up robotic systems; an awareness of the management and systems contexts within which robotic systems are engineered; and advanced knowledge in selected areas of robotics, culminating in a capstone project experience.
The first course, which will be offered in the fall 2013, is called "Foundations of Robotics," and will focus on mathematical foundations and principles of processing sensor information in robotic systems. Topics include an introduction to probabilistic concepts related to sensors, sensor signal processing, multisensor control systems, and optimal estimation.
Shelley noted that online students and campus students in the program will take the same courses and have their assignments due at the same time. Online students will view lectures on their computers and will have access to teachers via e-mail, discussion boards, and telephone. Online classes will have no more than 25 students.
Michael Gennert, director of WPI's Robotics Engineering program, said the online master's robotics offering continues WPI's longstanding tradition of robotics excellence. In 2007, WPI became the first university in the nation to offer a bachelor's degree in robotics engineering. The university later offered a master's program in 2009 and a PhD program in 2011.
"Since starting the nation's first undergraduate program for robotics six years ago, WPI has been committed to furthering robotics education," said Gennert. "And now, this online master's program shows just how devoted WPI is to extending robotics education into the workforce and beyond."
About Worcester Polytechnic Institute
Founded in 1865 in Worcester, Mass., WPI is one of the nation's first engineering and technology universities. Its 14 academic departments offer more than 50 undergraduate and graduate degree programs in science, engineering, technology, business, the social sciences, and the humanities and arts, leading to bachelor's, master's and doctoral degrees. WPI's talented faculty work with students on interdisciplinary research that seeks solutions to important and socially relevant problems in fields as diverse as the life sciences and bioengineering, energy, information security, materials processing, and robotics. Students also have the opportunity to make a difference to communities and organizations around the world through the university's innovative Global Perspective Program. There are more than 30 WPI project centers throughout North America and Central America, Africa, Australia, Asia, and Europe.
Featured Product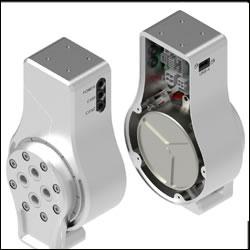 maxon launches the next generation of positioning controllers - the EPOS4. A high performance module with detachable pin headers and two different power ratings. With a connector board, the modules can be combined into a ready-to-install compact solution. Suitable for efficient and dynamic control of brushed and brushless DC motors with Hall sensors and encoders up to 750 W continuous power and 1500 W peak power. The modular concept also provides for a wide variety of expansion options with Ethernet-based interfaces, such as EtherCAT or absolute rotary encoders.