TORC Robotics announced that the GUSS autonomous ground vehicle has completed an 11-day Marine Corps Warfighting Lab (MCWL) Limited Technical Assessment (LTA) at Ft. Hunter Liggett, CA.
Blacksburg, VA May 29, 2013

TORC Robotics announced that the GUSS autonomous ground vehicle has completed an 11-day Marine Corps Warfighting Lab (MCWL) Limited Technical Assessment (LTA) at Ft. Hunter Liggett, CA. GUSS is an unmanned ground vehicle using TORC's Unmanned Kit to provide autonomous navigation, obstacle avoidance, and behaviors that conform to mission TTPs (Tactics, Techniques, and Procedures) of the dismounted Warfighter. These behaviors allow GUSS to lighten the load of the Warfighter while maintaining operation tempo in dismounted resupply, reconnaissance and casualty evacuation missions.
The purpose of the LTA was to assess the impacts of the integration of TNS2 (Tactical Network Sensor Suite) unattended and unmanned technologies on the ConOps and TTPs of a live experimentation force from I Marine Expeditionary Force (MEF). GUSS, along with the other elements of TNS2 including unattended ground sensors and unmanned aerial systems, enhanced the efficacy of the small tactical formation in the conduct of its assigned missions.
Recently, the U.S. Army Robotic Systems Joint Project Office (RS JPO) announced plans for the SMET (Squad Multi-purpose Equipment Transport) Program of Record which will provide similar capabilities to the Army. The RS JPO has been involved in GUSS LTAs and plans to incorporate lessons learned from the five LTAs into SMET.
In addition to the U.S. Marine Corps, the U.S. Army, U.S. Air Force, and DTRA are using TORC Unmanned Kits on other vehicles to perform missions ranging from route clearance to remote inspection. "From our success in the DARPA Urban Challenge 6 years ago, we have commercialized autonomy into safe, reliable, and cost effective Unmanned Kits," states Michael Fleming, CEO of TORC. "TORC's Unmanned Kits are being used in defense, mining, agriculture, and the automotive markets around the world. The versatility of our Unmanned Kits enables customers to transform military HMMVWs, farming tractors, construction and mining trucks, and cars into self-driving vehicles."
Contact TORC for more information on the capabilities of GUSS, or to learn how TORC unmanned vehicle kits can work with your vehicle, mission, or payloads.
ABOUT TORC Robotics
TORC enables engineers to rapidly integrate robotic systems through a suite of modular, customizable products. Leading academic, commercial and government organizations use the TORC Robotic Building Blocks™ product line to shorten the development process, lower costs and mitigate risks. These products are used on more than 100 mobile robots ranging from 15 pounds to 15 tons. TORC provides solutions for drive-by-wire conversion, emergency stop, power management, autonomous navigation and operator control. TORC also provides custom autonomy solutions that map to user-specific missions and needs. For more information, visit http://www.torcrobotics.com
Featured Product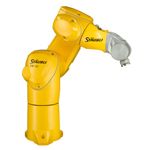 TX2 series of robots: the next generation of fast and precise 6-axis robots. This new robot range is redefining performance with the optimum balance of speed, rigidity, size and envelope. Those pioneer robots can be used in all areas, including sensitive and restrictive environments thanks to their unique features. Known worldwide for the quality of our design and innovation for more than a century, the Stäubli Group has brought its renowned engineering expertise and technological ingenuity to the forefront of robotics. Since 1982, we have built a highly regarded robotics business, and more significantly, transformed the way thousands of manufacturing operations perform. Today Stäubli Robotics is a leading player in robotics around the world, consistently delivering engineering as effective and reliable as our service and support.