Tennessee Rand Utilizes ATI Products in Flexible Manuafcturing
Apex, NC, May 7, 2013

The right equipment for the right job allows Tennessee Rand Inc. out of Chattanooga, TN to manufacture Harley Davidson motorcycles parts with expert precision; safely and efficiently. Tennessee Rand offers solutions to a variety of industries from automotive, military, aerospace, and power generation to off-road/heavy equipment. They frequently use ATI Industrial Automation's Tool Changers and Utility Couplers. These components make it possible to switch between specialized tank, sub-frame, and final frame welding fixtures automatically.
Without ATI Tool Changers, manufacturers would need multiple robots to change tooling processes; now only one robot is required, saving the company time and money. Before this automatic tool change option existed, workers had to manually change tools and this caused a safety issue for workers going into work cells. Automatic tool changes eliminate human contact and are therefore much safer. Likewise, ATI Utility Couplers provide an automated method for quickly and safely connecting utilities in docking and fixturing operations.
ATI Tool Changers and Utility Couplers have proven themselves valuable at Tennessee Rand, allowing expansion not only within the company, but also within other divisions of Tennessee Rand as well. This is accomplished by creating more flexible work cells that can change-over rapidly between product variations and product lines. ATI's products allow companies like Tennessee Rand to create cutting-edge manufacturing equipment that provides customers with the most efficient robotic tooling options available. All ATI Tool Changers feature their patented Fail-Safe Locking Mechanism and No-Touch Locking™ technology. Key features include: Excellent repeatability, high rigidity, and a lightweight and compact design. ATI Utility Couplers are compatible with a large number of standard ATI Tool Changer Utility Modules.
Featured Product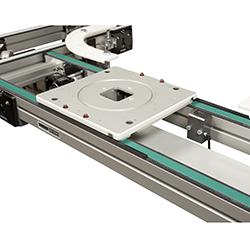 Dorner's 2200 Series Precision Move Pallet Systems feature the latest advancements in pallet traffic management. A unique pin tracking system guides pallets through merges and curves while maintaining product orientation. The fast belt change capability increases efficiency and reduces downtime in assembly automation processes. They are available in lengths up to 25 ft., can handle loads up to 500 lbs. and travel at speeds up to 114 ft/min.